Don't be left out of the BBQ fun!
It seems common that when someone converts to vegetarianism or veganism, one of the initial responses is to try "replacement" products such as Tofurky or "sausages" made from wheat gluten. This stage was, in my case rather short lived. The flavors of those products might have been OK but the texture was just unacceptable.
Why not just eat plant based food for what it is?
Sweet, sour, bitter, smooth, crunchy, creamy, spicy, and bland; plants have plenty going for themselves without over processing it trying to emulate some familiar animal product.
Ok, but what am I gonna eat at a cook-out this summer? I've ruled out the franken-wienies. How about a whole food BBQ sandwich that is low fat, crunchy and savory?
Enter Jackfruit. This other worldly giant fruit can reach 80 lbs (35 Kg). I suppose Newton was lucky he was dozing under an apple tree!
For this recipe use canned jackfruit can packed in either brine or water (don't get the ripe jackfruit for this application). Canned jackfruit is inexpensive, is high in vitamin B6 and low in fat. However, it is its texture that we'll put to use today. Green jackfruit is quite fibrous and once cooked and mashed has a texture not unlike pulled pork.
I'm posting this because a few weeks ago I had a bbq jackfruit sandwich as a vegan restaurant and it was surprisingly good, and satisfying. A little web research and adapting several recipes led me to my technique.
To cook green jackfruit:
Drain and rinse canned jackfruit
You can steam (5-8 minutes), simmer (about 10 minutes) or roast the jackfruit as you see fit. I pressure cooked it (3 minutes) to get it tender then finished it under the broiler.
BBQ Jackfruit sandwiches
Makes four generous sandwiches
[tw-divider]INGREDIENTS[/tw-divider]
2 cans green jackfruits drained, rinsed and cooked until tender (see above)
1 cup (250 ml) BBQ sauce – make your own or use your favorite store-bought
4 sandwich rolls or hamburger buns
2 cups (500 ml) cole slaw – prepared as you like it
[tw-divider]METHOD[/tw-divider]
Preheat Broiler.
Lightly grease a rimmed cookie sheet/ bake pan (you could line the cookie sheet with foil for easier clean up).
Using a potato masher or a fork, mash the jackfruit until the consistency of pulled pork.
Add half the BBQ sauce and stir to mix well, spread sauced jackfruit on pan an place under broiler.
Broil until hot and steaming and little bits are starting to brown or blacken. 7 – 10 minutes
Add the rest of the bbq sauce, stir and spread out jackfruit again on sheet, return pan to broiler until hot and a bit bubbly – a little char won't hurt.
OPTIONAL: Toast buns cut side up for last 3-4 minutes under broiler, taking care not to burn your buns.
[tw-divider]PLATING[/tw-divider]
Put half a cup of slaw on bottom bun, 1/4 of the BBQ jack fruit mixture on the slaw, slap the top bun on.
Eat like you ain't missing a darn thing, 'cause you ain't!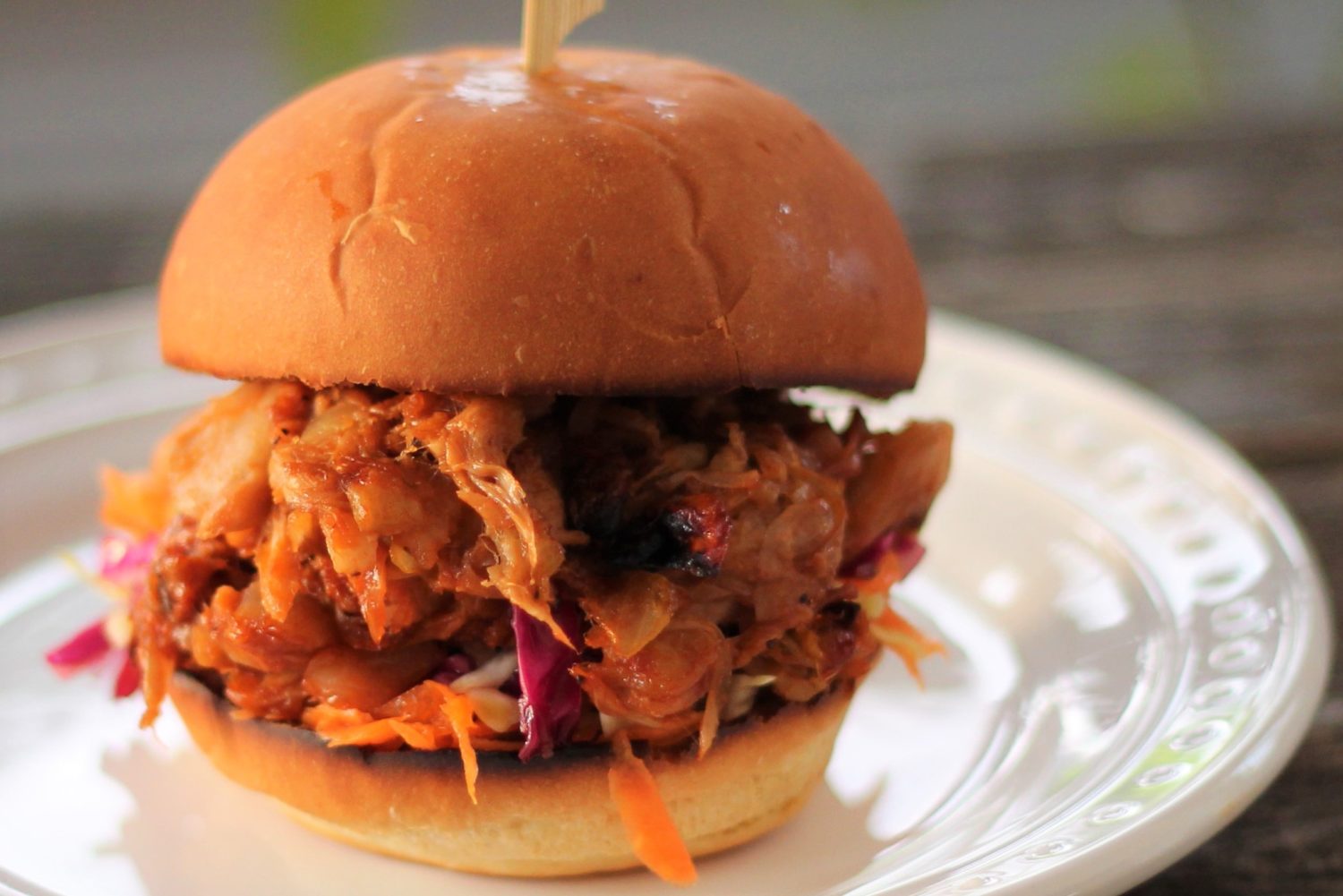 Until next time, Eat Well & Keep Digging!