The garden is in its last phase. I'm still harvesting chard, kale and radish greens. With it as gloomy, windy and cool as it is today, I think a  soup is in order.
Soup is a wonderful concoction, endlessly variable and adaptable, look at a recipe and then make it your own.
This one uses three different greens because I want to use them up before they are no longer available. Swiss Chard – it never bolted, these are from what I seeded in May. The kale and radish I planted in August. The slightly bitter greens pair perfectly with the creamy white beans.
Ingredients:
4 cups cooked white beans (or you could use two 15.5 oz cans drained and rinsed)
3 carrots diced
3 stalks celery sliced
1 onion diced
3 cloves garlic minced
1 clove garlic sliced
3 tbs olive oil divided
about 6 cups greens rough chopped (I used a combination of kale, chard and radish, but you could use whatever you like, spinach would be fine too!)
4 cups vegetable stock
Salt and pepper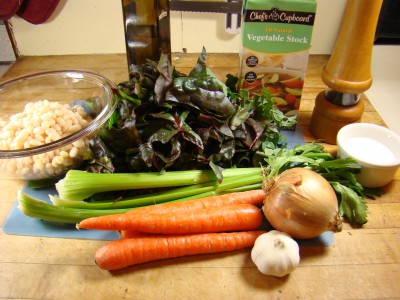 Directions:
In a large pot over medium high heat, add the olive oil and heat until hot but not smoking.
Add diced carrot, celery, onion and minced garlic.
Add a pinch of salt.
Cook stirring often until vegetables soften.

Add beans and broth, stir to combine and bring mixture to a a simmer.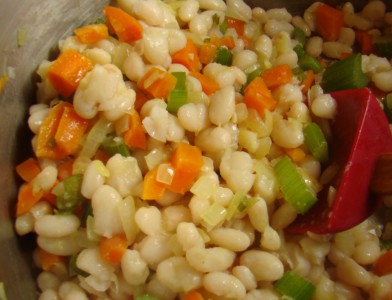 While beans and vegetables simmer, heat remaining tablespoon of oil in a shallow pan over medium high heat,
Add the sliced garlic, and cook about 30 seconds
Add the greens, a pinch of salt and cook down until greatly reduced in volume and tender

Add contents of pan into pot with bean mixture. Stir to combine and simmer until all vegetables are tender.
Taste and adjust salt and pepper.
Ladle into bowls and serve with crusty bread. If you desire, drizzle a little more olive oil over the top, or grate some parmesan, even a dash of vinegar would be delicious!


Until next time, Eat Well & Keep Digging!
Related posts: