Whew! I hope you all had a great Christmas holiday and are resting up for  the New Year!
There was a bustle of activity around here. I was busy brining, curing, smoking, and yes, enjoying the fruits of my labor for a few days.
We did both cold and hot smoking.
If you've been following along, you remember that cold smoking is applying smoke for flavor and as a preservative.  As the name implies there is little to no heat, so cold smoking is not cooking. The temperature should be held below 70F or so. This is not a problem here this time of year.  Other than pork products or fish, you can cold smoke salt, and cheese to good effect. The picture above is of a cold smoker I built and it works very well and is portable. But it needn't be this elaborate, any external smoke source directed a short distance into a smoker box should work…. but I digress.
Hot smoking I do in the Weber Smokey Mountain bullet smoker. It works very well! I use it year-round for roasts, fowl, sausages, ribs  – even vegetables. Anything you want to cook low and slow while imparting a delicious smokey flavor will work.
Now back to the story….
We have been going to my brother's in-laws for years to enjoy a Feast of the Seven fishes. It was there that I first tasted Isalata di frutti di mare. It remains one of my all time favorite things to make and eat!
This year the location of the feast moved to my brother's with a smaller cast but the same menu. I volunteered to make the smoked salmon for the appetizer. It is the same one I've shown before here. This one may have been the best one ever. While there is no picture of the final presentation (I wasn't going to whip out my lights and camera on Christmas Eve. OK, yes I did consider it for a moment.) here is a shot in the cold smoker. I am always amazed at how a thick soft salmon fillet changes its texture after a few days weighted down in a cure. It becomes dense and dark, yet the oils keep it moist. It is definitely one of the most satisfying things to make yourself. By the way – you needn't smoke it. Once cured it is delicious, it just slice thin and enjoy. This fillet was gobbled up by an appreciative  crowd!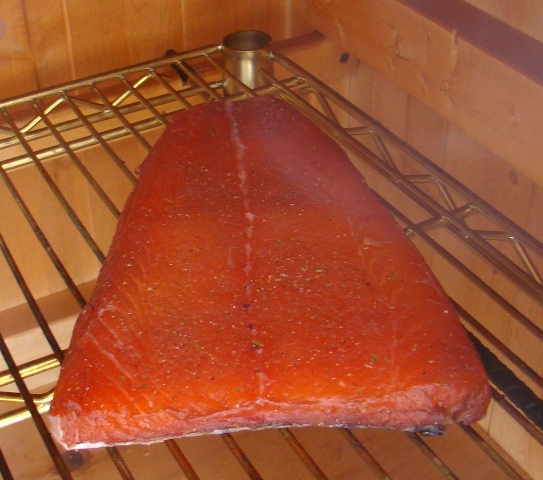 At my sister's house back on the 10th, my two grown nephews and I were talking about smoking food. We made plan to get together on the 26th for a smoke-tacular.
This takes a bit of planning as you need to figure out what you're going to smoke, and plan backwards in terms of cure times and techniques. Belly bacon  gets a dry cure then cures for a week. Canadian bacon cures in a brine 48 hours. Pheasant also gets brined but only 12-18 hours worth. All of these need time to form a pellicle (the tacky layer that forms after air drying and is helpful in getting smoke to adhere) so that must be figured in as well. On top of that,  everything smokes for different durations so I find it necessary to write down the plan, times, and order of production.
Seem like hard work? Not really… none of it is difficult, and you need not live out on the farm (oh I wish!). You just have to plan it out and take your time. I would suggest you master each product individually as trying to pull this all off the first time would be a bit overwhelming. After all, this should be about enjoying the process as well as the product!
Oh and while you're at it go ahead and volunteer to make a pan of baked ziti with sausage for the wife's family Christmas dinner…. and also make 6 lbs of kielbasa, on Christmas day, before making the ziti.
I said I was busy!
The question is, is it worth it? Well, the ziti was devoured. I had a great day with my nephews. Interesting to relate to them as adults not as children. I think I do better with adults. And the smoking? As they say, a picture is worth a thousand words.
The Canadian bacon.

The belly bacon is spectacular!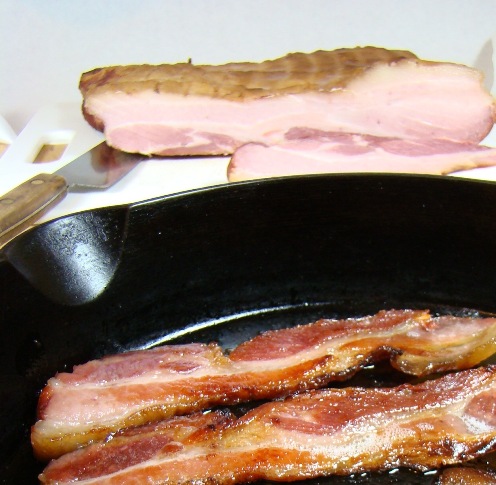 Remember the sauerkraut? Here it is simmering gently with some of the kielbasa I hot smoked.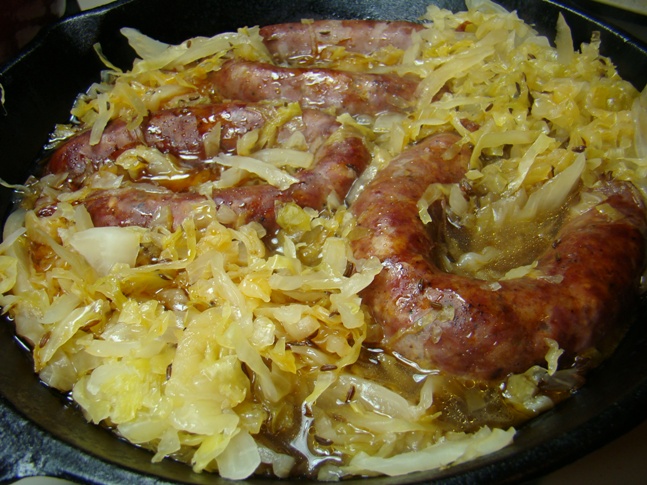 And the cold smoked kielbasa ready for packaging and freezing.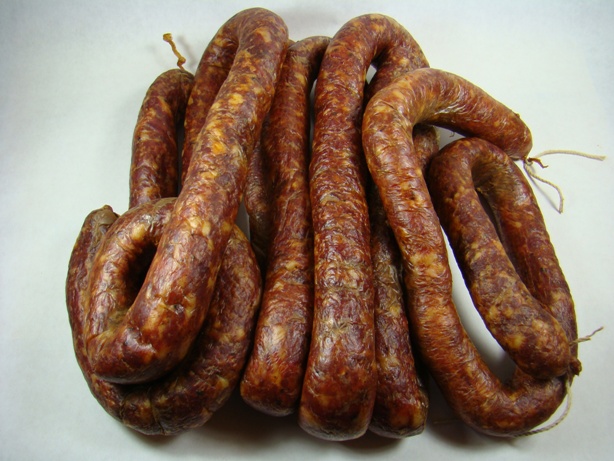 But perhaps the most spectacular of all is the smoked pheasant! I followed Hank Shaw's instructions. I have his cookbook, but this recipe is only on-line. This is the first time I've done this, and I wasn't sure how it would work out. Seems it was pretty darn good! The brining kept the bird moist. and it has a wonderful smokey flavor! How do I know? – I made two and ate one!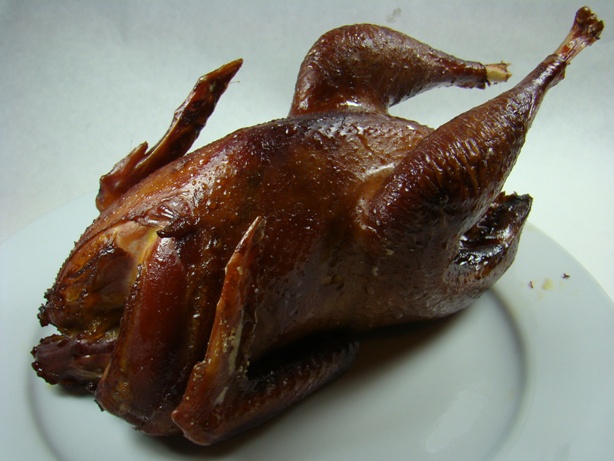 So how does this fit into the Gastronomic Gardener? – I've been asked this before when posting about BBQ or bacon. While in this post only the cabbage for the sauerkraut came from the garden, the entire endeavor of being involved in your own personal food production is important to me. Short of growing out my own hogs or birds, this is as hands-on I can get. I know the care, conditions, and sanitation involved in making these foodstuffs, and I am confidant in not only eating it myself, but also feeding it to family and friends. It is to me what food production is at its best. Personal, thoughtful, frugal. That fits with the Gastronomic Gardener.
I've got bacon to slice, sausages to freeze so,
Until next time, Eat Well & Keep Digging!
Related posts: