Cauliflower Chickpea Curry
This is a quick dish, and very versatile – you may use almost any vegetable you choose. This dish will use the basic curry sauce. To really speed things up, microwave your prepped vegetables in a covered bowl with a little water for 3-5 minutes. This par cooking will reduce the overall time in getting dinner on the table. If you do choose to precook the vegetables, be sure to drain and dry them well before adding them to the hot oil.
Ingredients:
1-3 tbs vegetable oil
3-4 cups of vegetables cut up into bite size pieces and dried on paper towel (didn't parcook them)
½ tsp chili powder
½ tsp turmeric
½ tsp ground coriander seed
½ tsp ground cumin
½ cup cooked (or half a can) chick peas
3-5 oz of basic curry sauce
¼ cup water if needed
Directions:
Heat oil in a large pan over medium high heat.
Add vegetables and stir-fry until vegetables begin to brown.  if you need a little more oil, go ahead and add it. Add more water if needed to soften vegetables. If so – cook until water is evaporated.
Reduce heat to medium.
Add spices and stir-fry for another minute to coat vegetables with spice.
I like the way the tumeric colors the dish….
Reduce heat to low.
Add curry sauce, I used the whole batch of the sauce, I like my curry saucy.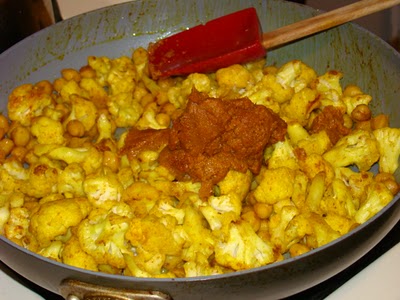 Toss/stir to coat all vegetables and cook over low heat until vegetables are tender. Add a little more water if needed to thin out the curry sauce.
Garnish with chopped cilantro.  Serve over rice or with Naan. Click the link to see how easy that is to make!
Makes 2-4 servings
 Until next time, Eat Well & Keep Digging!
The Gastronomic Gardener
Related posts: