Dolmades are wonderful little bites, grape leaves wrapped around rice or savory meat. The Swiss Chard is still producing so I decided to replace the grape leaves with  Chard.  The last time I made the Kofte it was delicious. Why not combine the two? The result was a flavorful morsel, tender and pungent, that played well with crispy panfried chickpeas and radish greens.
Swiss chard and Lamb Kofte Dolmades
[tw-divider]INGREDIENTS[/tw-divider]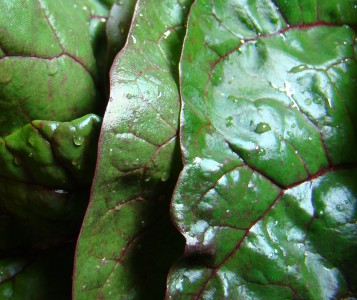 Swiss Chard leaves trimmed and steamed
1 lb (500 g) ground meat – preferably lamb, but lamb/beef, or even ground turkey will work
3-4 cloves garlic minced
1/2  onion grated
1 green chili, finely chopped
1 Tablespoon (15 ml) ground coriander
1 teaspoon (5 ml) chili powder
1 teaspoon (5 ml) ground cumin
½ teaspoon (2 ml) ground cinnamon
¼ teaspoon (1 ml)  ground ginger
1 teaspoon (5 ml) salt
1 bunch parsley minced
1/2 cup (125 ml) rice
2-4 cups (500ml- 1l) broth (or water)
[tw-divider]METHOD[/tw-divider]
Combine all ingredients except chard leaves and broth in a large bowl and mix well
Trim stalk end off chard leaves and steam until pliable. – this only takes a few minutes
Gently turn out leaves rib side up, and using a small sharp knife, remove a ribbonof some of the rib at the bottom , effectively making it thinner which will make the leaves easier to roll up. Set aside, reserving enough chard leaves to line the bottom of the pot you'll cook them in.
In a large skillet over medium high heat add the meat/spice/rice mixture and cook until browned.

Remove from heat and allow to rest until it is cool enough to handle.
Place about 2 Tablespoons filling at on the rib side of a prepared leaf. Fold over the bottom, fold in the sides,  and roll up like a spring roll or burrito.

Repeat with the rest of the leaves or until meat filling runs out
Add reserved leaves to bottom of pot, and place rolls in pot, seam side down. Add broth to almost cover

Bring to a boil, reduce heat to simmer and cover until rice is tender – 40-60 minutes. Remove from heat and let stand 5 minutes before serving
While the dolmades cook, prepare the panfried chick peas. This is a different take on them and they are delicious and adaptable in so many ways. The secret is to drain and dry the chick peas before adding to hot oil.

[tw-divider]INGREDIENTS[/tw-divider]
1 15oz (425g) can Chickpeas (aka Garbanzo or Ceci)
2-3 Tablespoons (30-45 ml) Olive Oil
Handful of Greens (I used radish because they they looked great in the garden
Pinch of salt
Pinch of chili powder (optional)
[tw-divider]METHOD[/tw-divider]
Drain, rinse and dry chickpeas – this is important!
In a hot saute pan, add the 2 tablespoons of olive oil and heat until hot but not smoking
Add the chickpeas and swirl to coat with oil
Sprinkle with salt and chili powder
Pan-fry stirring often for 8-10 minutes or until golden brown and crispy
Add a little more olive oil and the greens

Cook until the greens are just wilted
Taste and adjust salt and pepper if needed.

These do take little time but are worth it. Crispy spicy beans and the savory lamb rolls make a fine weekend dinner. Pass the Retsina!
Until next time, Eat Well & Keep Digging!