They say things that grow together go together, and in the case of tart rhubarb and sweet strawberries this is certainly the case!
My ex Mother-in-law used to make strawberry rhubarb pie, and is partially responsible for me enjoying pie more than cake. And this pie is my favorite.
As it is now, a whole pie between the Accountant and I is a bit much. It's an invitation to gluttony at least. These hand pies allow us to freeze some unbaked for later use or, if you bake them all, they travel quite well to work. Watch your colleague's eyes as you have one of these with your three o'clock coffee!
I have rhubarb and strawberries growing but not yet in quantity enough to make pie, but no matter. A trip to the market for some organic produce solves that.
This recipe has a couple unique touches; it uses a little balsamic vinegar as a sweetener and makes the flavors really pop. A little grated orange zest adds a nice touch too. Finally, the addition of soft tangy goat cheese plays off the tart rhubarb and gives a late bit of tang to what could be a too sweet treat.
There are a few "rules of thumb" when making hand pies:
Before assembly filling should be at least cooled to room temperature.
Fillings should be moist but not wet.
Far better to slightly under fill than overfill the pastry.
After assembly, hand pies should be chilled for at 20 minutes.
If you're not into making your own pastry dough – use puff pastry dough or even premade pie crust dough – just be sure to follow directions on the package regarding thawing.
Make a bunch because you can freeze them and cook them up to 3 months later for a quick dessert.
Use parchment paper or foil on the baking sheet to make cleanup a snap!

Strawberry Rhubarb Hand pie
Makes 6 pies
Double batch pastry dough divided into 6-8 equal portions (equivalent to 2 pie crusts)
For the Filling
2 Tablespoons (30 ml) unsalted butter
14 ounces (400g) strawberries, hulled and roughly chopped
7 ounces (200 g) rhubarb, peeled (if needed) and roughly chopped
5 Tablespoons (75 ml) sugar
1 teaspoon (5 ml) balsamic vinegar
1 Tablespoon (15 ml) grated orange peel – the peel of about 1 medium orange
1 Tablespoon (15 ml) cornstarch
1 pinch kosher salt
2 ounces plain goat cheese divided into 1 teaspoon portions (no need to be exact here)
1 egg
1 Tablespoon coarse sugar (Turbinado)
If making the dough, do it now, if using frozen store bought – allow it to come to room temperature – be sure to double the recipe!
Make the Filling
Melt butter in a 2-qt. saucepan over medium heat
Add strawberries and rhubarb and cook until soft, about 6–8 minutes. Stir in sugar, vinegar, cornstarch and salt; cook 3 minutes more. Remove from heat and allow to cool to room temperature, then cover and chill at least 30 minutes before using
Assemble and Bake
It will be easier to work with half the dough at a time. Leave the remaining portion in the fridge until ready to use.
Roll-out dough into 9"x9" rectangle, cut into thirds
Place a small amount of goat cheese into center of dough, spoon a scant 1 tablespoon of filling into center of dough, brush edges with a little egg wash, fold over and crimp with a fork
Cut a small slit in top of pie to vent steam
Place formed pie on well-greased or parchment paper lined baking sheet
When all pies are formed, place loaded baking sheet into freezer or fridge for at least 20 minutes to chill.

You could freeze them at this point for later use, just add 10-15 minutes to baking time if cooking from frozen

While pies chill, preheat oven to 375F (190C / Gas Mark 5)
Brush pies with egg wash and sprinkle with sugar

Put tray of pies in oven and bake until golden brown – about 30-45 minutes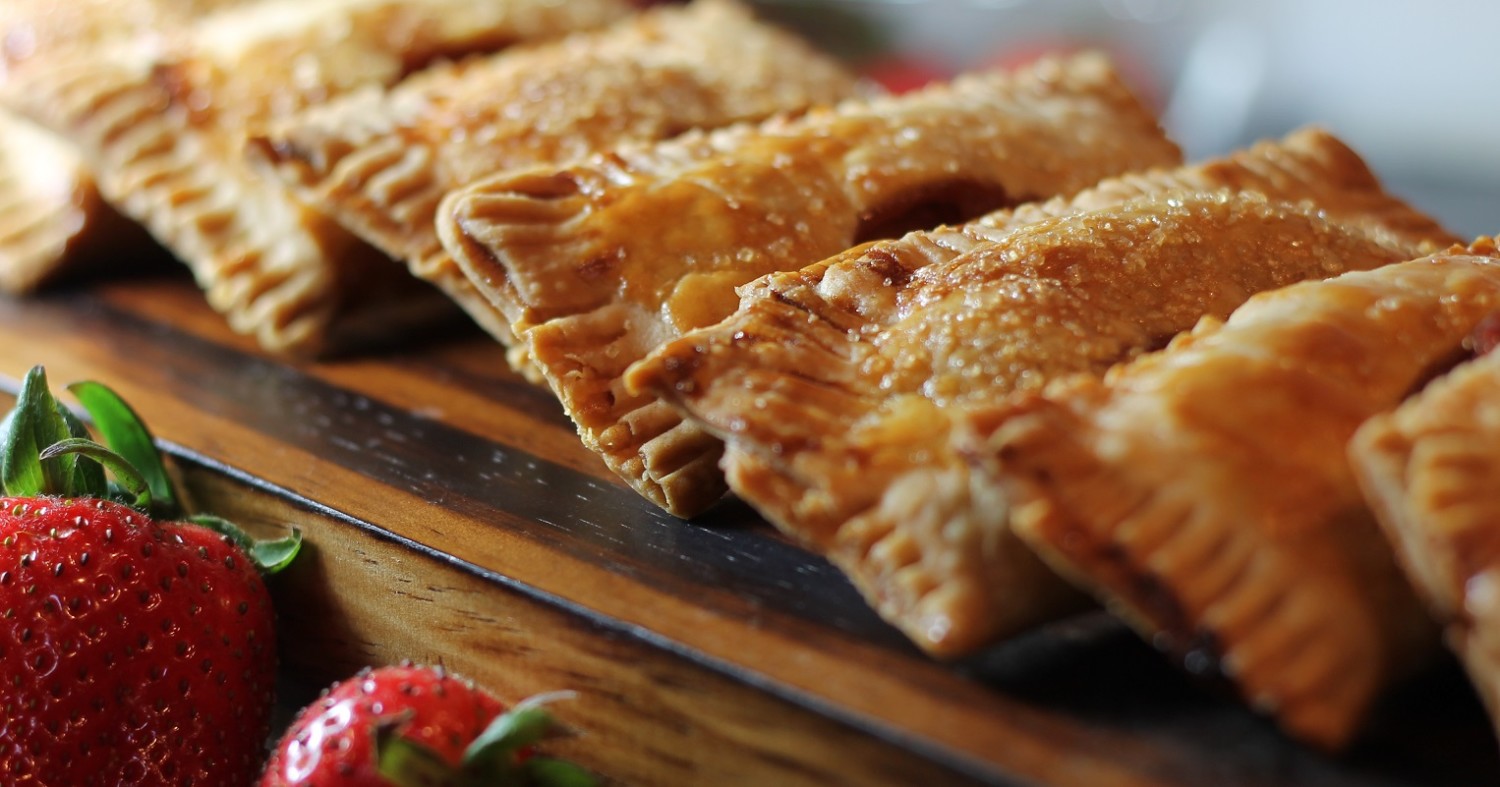 If you can wait, allow them to cool, or as I did, greedily gobble one down and burn your tongue in the process. It was worth it!
Make these early season treats soon!
Until next time, Eat Well & Keep Digging.
Related posts: