Not all recipes come out of a book, or a magazine, or an interesting website. Some spring forth, a hybrid of ideas that percolate into something new.
Inspired by a newspaper recipe for barbecued goat, a television program about lamb roasted in deep pits in Morocco, and a magazine article about the smokey chilli mole sauces and marinades of Mexico, this dish fomented for weeks in my mind. I imagined deeply spiced, smoked, roasted and shredded rich lamb, picked up with a simple flat-bread, and drizzled with either a hot sauce such as the sambal oelek, a harissa sauce or an herb infused chimichurri.
Two key ingredients are the Ancho chillies and the Guajillo chillies. Both are available in my area thanks to the large Mexican population. Ancho Chillies are dried poblano peppers and have a fruity and mildly acidic flavor while Guajillo chilies are dried Mirisol peppers and lend a bright note to the marinade. They are my homage to Mexico
The cinnamon is interesting to me as it is common in both Mexican and North African cuisines.
I added the apricots as a nod to the North African tangine dishes of stewed lamb and to add a bit of sweetness.
[tw-divider]INGREDIENTS[/tw-divider]
4 whole dried ancho chillies
4 whole dried guajillo chillies
1 med onion roughly chopped
6 to 8 cloves garlic
4 whole allspice berries
2 whole cloves
1/2 teaspoon (2 ml) black peppercorns
1/2 teaspoon (2 ml) whole coriander seeds
1 teaspoon (5 ml) whole cumin seeds
1 teaspoon (5 ml) dried oregano
1 Tablespoon (15 ml) kosher salt
2 tablespoons oil (30 ml)- no need to use EVOO – canola will be fine
1/2 teaspoon (2 ml) ground cinnamon
6 lbs (3 kg) bone-in lamb shoulder (if you can find one that size great, but two smaller ones is just fine as well)
8 oz ( 250 g) dried apricots roughly chopped
[tw-divider]METHOD[/tw-divider]
Place the dried chillies in a heat proof dish and pour boiling water over them to cover. Let steep for 10 minutes or until they have softened, remove from water (reserve about 1/2 cup of soaking water) remove stems and seeds, chop roughly and set aside.
In small pan over medium heat combine allspice berries, black pepper corns, coriander seeds, and cumin seeds. Toast until fragrent and then grind into powder (I use a repurposed electric coffee grinder that is only used for spices)
Combine chillies, toasted and ground spices, oregano, salt, onion, garlic and oil in a food processor and whizz until a smooth paste forms. If you need to thin the mixture, add some of the chilli soaking liquid one tablespoon at a time until you achieve your desired consistancy. I like it a bit thick. It makes a beautiful brick red sauce!

Put lamb in a shallow pan or a rimmed cookie sheet and generously smear chilli paste all over it. (I wore gloves, it is messy).

I put the rubbed lamb in a large zip top bag and put it in the refrigerator over night.
The next morning, I took it out to let it rest and come up to room temp while I prepared the smoker. I was going for about a 4 – 5 hour smoke  (guests were coming about 3) so it need to go on about 9 so as to allow an hour to rest and get everything else going.
I used the "Minion Method" as I normally do. It provides an easy way to get a long consistent cook on the smoker.
The first two hours I applied mesquite smoke. The lamb and rub are robust enough to stand up to this flavor, and it provides another layer of complexity and  is authentic to Tex-Mex smoking. At the mid way point I wrapped the lamb in foil (added the chopped  apriciots) and returned it to the smoker (without smoke just heat) to continue cooking for another few hours.
After taking it off the heat, I let it rest, then served it with homemade flat bread and a cooling couscous salad. I added the Sambal oelek, a chimicurri, and harissa sauce to use as desired. If I had to pick a favorite, I'd go with the chimichurri. It has a brightness of flavor that contrasted perfectly with smoky darkness of the roasted lamb.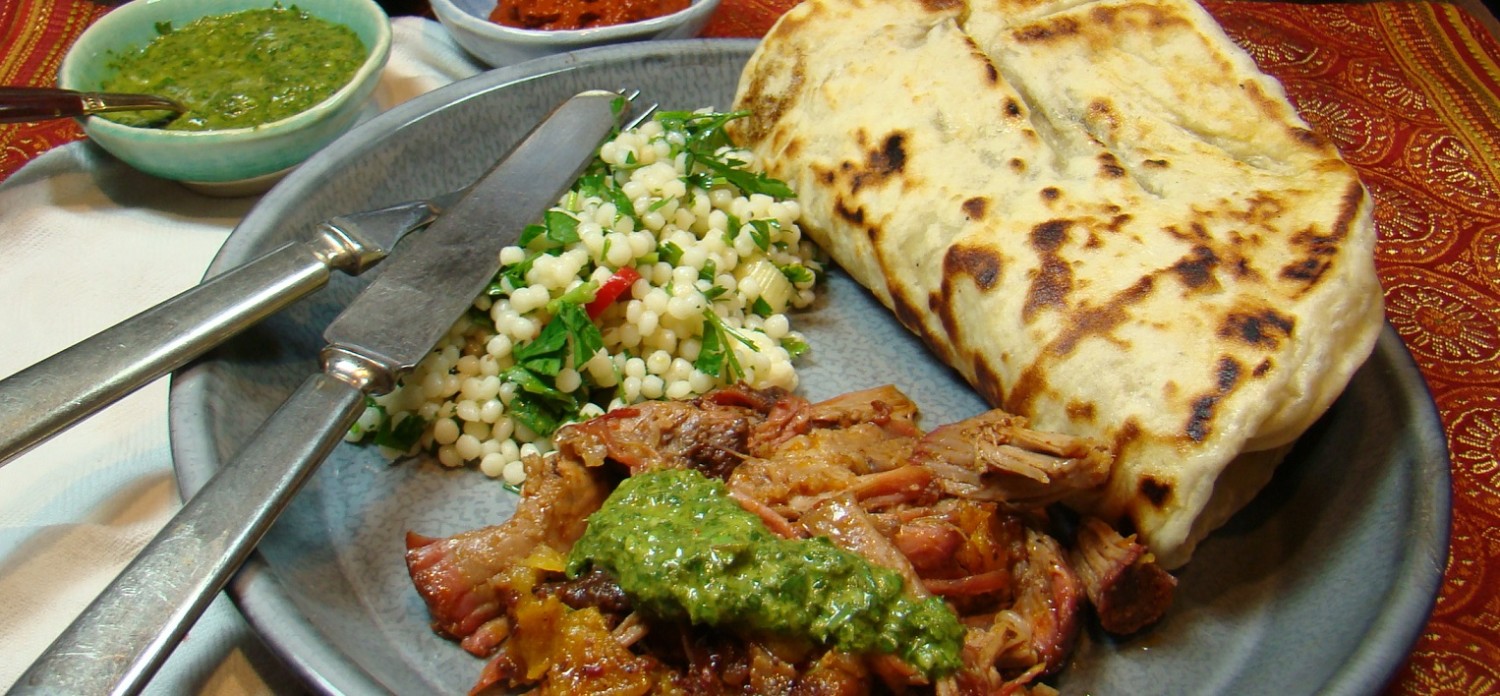 Dessert was toasted pound cake served with whipped cream and some of the brandied figs, where I reduced the liquid until it was thick and syrupy.
The meal was perfect for casual feasting while catching up with old friends.
Until next time, Eat Well & Keep Digging!