We are experiencing a several day thaw though we're solidly in the middle of snow covered winter.  The overcast skies and cold days, still-long nights makes me want to cocoon in the house wrapped up in a sweater. To make the scene complete something warm and rich should be burbling away on the stove for hours.
OK, dream time over, I've got chores to do, seeds to sort and prioritize, and tax papers to organize. But that doesn't mean something delicious shouldn't be cooking!
Beef shanks are perfect for long cooking. They're tough yet flavorful, and are rendered meltingly tender when cooked low and slow for hours. If you can't get beef shanks I'm sure lamb shanks would be great, pork too! It's more about technique than strict adherence to a a recipe around here!
Because this is going to be a sauce and not a stew or osso bucco,  the vegetables are cut into a small dice – 1/2″ ( about 1 cm) so that they  (mostly) dissolve during  the long cooking process.  Also a little different is the addition of the pickled cherry peppers. This lends a nice heat without being overpowering. If you can't tolerate heat, leave them out and this dish will be delicious anyway.
Loose polenta is lovely but I like the crunch when making polenta cakes and I think it  makes for a more elegant presentation. You could also serve this rich sauce over pasta. I think a wide noodle would be perfect!
Spicy Braised Beef Shank Sauce and Polenta Cake
Serves 8-10
5 lbs (about 2 kg) beef shanks, extra fat trimmed off, bone in
Salt and pepper
3 tablespoons (45 ml) oil. (I used regular olive oil, not extra virgin, could even use canola oil)
1 cup (250 ml) diced carrot (1/2 inch (1 cm) dice)
1 cup (250 ml) diced celery (1/2 inch (1 cm) dice)
1 cup (250 ml) diced onion (1/2 inch (1 cm) dice)
1 big pinch of salt
2 large cloves garlic minced (about 1 tablespoon or 15 ml) (i also tossed in a few cloves of the garlic conserva)
2 cups (500 ml) red wine
2 cups (500 ml) beef broth (or vegetable broth, or water)
2 14.5 ounce (or 1 28 ounce)(794 g) can(s) diced tomatoes (the ones I had were fire roasted but any should be fine)
1/4 (60 ml) pickled cherry peppers seeded and minced
Prepared polenta or pasta for serving
Preheat oven to 325F (160C or Gas Mark 3)
Season shanks generously with salt and pepper
In dutch oven or heavy oven proof pan with lid heat the oil over medium high heat until shimmering
Add shanks in one layer (You may need to work in batches) and brown on both sides
Remove shanks and transfer to plate, repeat until all shanks are browned
Drain all but 2 tablespoons of fat from dutch oven
Reduce heat to medium and add carrots, celery, and onions and big pinch of salt
Cook vegetables, stirring often about 5-6 minutes
Add garlic and cook another 10 minutes – until vegetables are soft and starting to brown
Increase heat to medium high and add the wine
Bring to a boil and stir, scraping up any brown bits from the bottom of the pan
Add tomatoes and broth, return to a boil
Return shanks and any juices from the plate back to dutch oven
make sure shanks are nestled down into the liquid, add a little more broth or water to just cover




Put lid on dutch oven and transfer from stove top to oven
Cook for 3 hours, meat should be dark brown and very tender – almost falling apart
Transfer dutch oven back to stove top
Remove shanks and bones to a bowl
Add the sliced pickled peppers to the dutch oven and stir in
Shred the meat using forks, and remove any remaining marrow from the bone
Return meat and marrow to the dutch oven and warm over medium low heat
Taste the sauce for seasoning and add salt and or pepper as needed
Serve over grilled polenta cake or prepared pasta
If you want a more "finished" looking sauce – you can (and I did) use an immersion blender on the gravy while the meat was not in the pot. Also, you could make this ahead, cool to room temperature then chill. The fat will rise and solidify and you'll be able to skim it off easily.
This luscious sauce compliments the crispy polenta cake just perfectly! It was delicious to eat on a dreary, damp, and cold February day.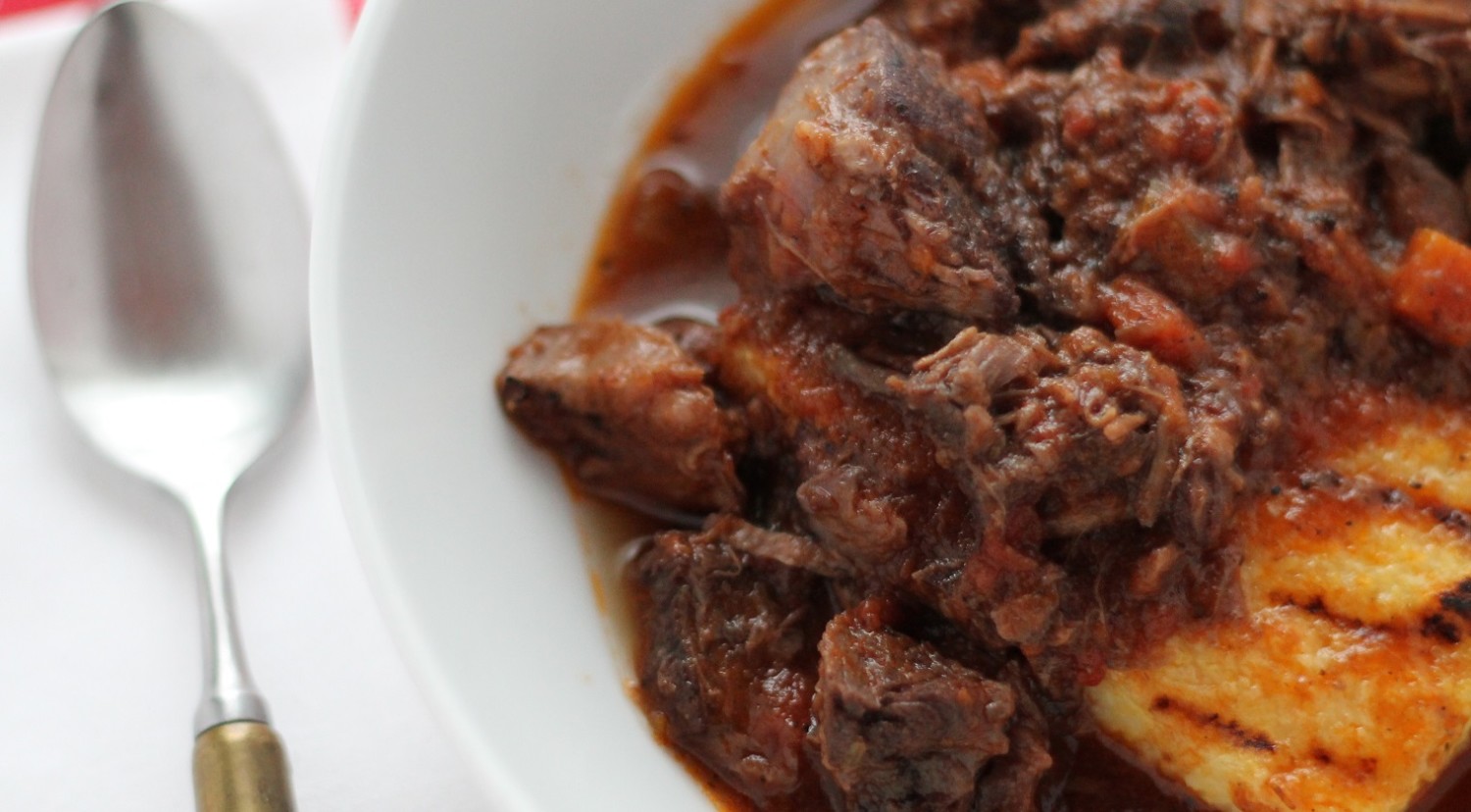 Until next time, Eat Well & Keep Digging!
Exciting News!
If you haven't noticed, I've added a Newsletter subscription form near top of the blog on the right side. If you want recipes and gardening tips delivered right to your inbox every month, just enter your email address to subscribe! Free gift to the first 100 subscribers!