More than 10 years ago, shortly after my divorce, my then very small daughters had spent Christmas day and dinner with their mother and her family.  I was putting together a small tray of goodies for me – blue cheese stuffed olives, smoked salmon on dark rye, capers and minced red onion,  and some prosciutto.
Their mother dropped them off and  we settled on the couch to watch  some ice skating. The girls with (I thought) full bellies and cheeks rosey from the cold were snuggled up against me, one on each side, drowsy from the excitement of the day.
I ate an olive, then sampled the salmon.
As I munched, a small pink hand slowly reached in from the left onto the tray in my lap. My eldest took an olive. From the other side the younger one filched a bit of salmon on rye. I turned my head slowly and looked at one then the other. They looked back with the big eyes children have. I was so proud. They didn't realize these were "grown up" tastes that most 6 and 7 year olds wouldn't like.
"C'mon then!" I said.
They sat up and together we demolished that tray and another. 
They were always good eaters, but this was a whole other level.
I still love smoked salmon and it's very easy to make at home.  I start with the best bit of fish I can get.
For the rub I again turn to my favorite book of all things cured, Charcuterie. It is based on sugar, salt, dark spices and sodium nitrate, Get yourself a copy for the exact recipe.
Rinse and pat dry the salmon, this was about 1.8 lbs.
Next you need  a non-reactive (I used glass) pan just bigger than the fillet but deep enough to contain the brine that will be released, put down about a third of the salt/sugar/spice mixture.
Lay the fillet onto the mixture skin side down.
Add the rest of the cure  using more on the fleshy end and less on the thin tail end.
Cover with plastic wrap (not foil!) and weight it down. You could cut a piece of cardboard just smaller than the pan for even weight distribution. Use foil wrapped bricks or cans. I used cans. Place in fridge for 36 hours. It will release a lot of liquid.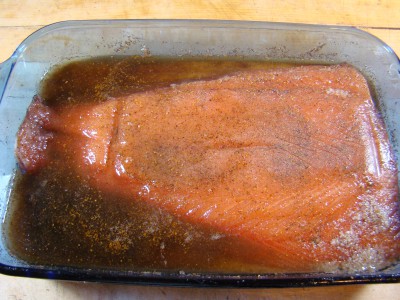 At this point take it out of the brine that has formed, give a rinse in cool water and pat dry – check that the thickest part is fully cured – it should not be squishy. I wasn't happy with it so I put back in the brine for another day. Finally it was done.
Look at the before and after for the change in water content and color.

At this point you could slice and serve and I'm sure it would be delicious, but I wanted to add another layer of flavor .
I toasted equal amounts of coriander and black pepper in a pan over medium heat until fragrant, then ground them up in my spice grinder. Yes, this is traditional Pastrami seasonings!
A quick paint of molasses to help the spices ahdhere.
Sprinkle the spice mixture evenly over the cured filet.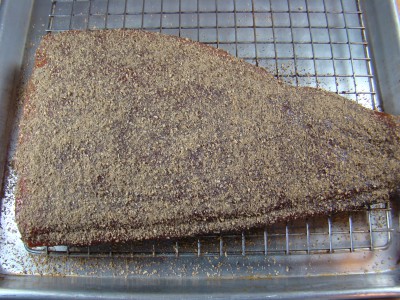 Let it rest over night, and then cold smoke over fruit wood to your personal taste. I smoked this for about 8 hours. The salmon is on the left.
Remove from smoke, wrap in butcher paper and chill.
To serve cut very thin on a bias. Serve as described above.  If the seasonings are too strong – wipe them off  with the back of a knife before slicing.
This is silky, sexy, luxurious food. The salmon almost melts in your mouth. With homemade dark rye bread it is extraordinary.

Until next time, Eat Well and Keep Digging!