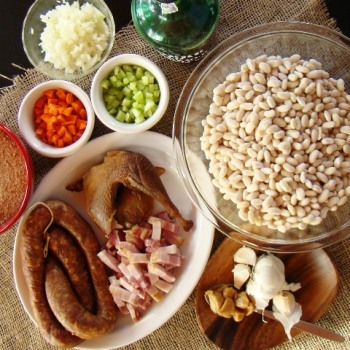 In some parts of the country they celebrate the New Years with Hopping John, and I love black-eyed peas, but this year, I'm going to use another bean recipe to ring in the New Year.
Cassoulet – a simple, hearty french bean stew that gets its name from the vessel it is cooked in – a cassole - rather from any ingredient. As with many great dishes, it is originally a peasant dish, With many different regional variations, cassoulet can spur passionate debates as to what is a proper or authentic version. Just as there are arguments about BBQ, chili, ratatouille, and gumbo, the same apparently exists with cassoulet.
In some regions it is about mutton and pork shoulder, others duck confit and garlic sausages. As a peasant food, I don't think there is a "right way" though I am sure there will be those who disagree. That's OK, I can live with that. I believe you cook with what you have on hand which remains true to the frugality and resourcefulness of the dishes' origins.  I have smoked pheasant legs/thighs, kielbasa, and bacon I recently made. And while I'm at it, I'll add some of the garlic conserva I have in the pantry.
Smoked Pheasant and Kielbasa Cassoulet
Serves 8
Ingredients:
1 lb white beans soaked overnight, rinsed and drained
4 oz bacon cut into lardons – or 1/4″ sticks
1/2 cup chopped carrot
1/2 cup chopped onion
1/2 cup chopped celery
3-6 fresh garlic cloves crushed
4 cloves garlic conserva (optional)
1/2 cup port wine
1.5 quarts stock – I used smoked pheasant stock because I had it, but you could use chicken stock
2-4 smoked pheasant legs and thighs
12 oz smoked kielbasa or any garlicky sausage
2+ cups bread crumbs
Directions:
Preheat oven to 350F degrees.
In a heavy dutch oven over medium-high heat, cook the bacon lardons until they are lightly browned and fat renders.
Add the carrots, onions, celery and raw garlic. Cook until the vegetables are caramelized.
Add the port and deglaze the pan, scraping up any browned bits that may have stuck to the pot.
Add the pheasant legs and sausage and garlic conserva.
Add the white beans and stock.
Stir gently.
Cover and place into hot oven.
Reduce oven temperature to 250 degrees. Bake 3 to 4 hours.
Remove from oven and remove lid, sprinkle top generously with bread crumbs and bake an additional 5 to 10  minutes.
If desired, broil for a few minutes to brown the bread crumbs.
Per Serving: 469 Cal (42% from Fat, 24% from Protein, 34% from Carb); 26 g Protein; 21 g Tot Fat; 7 g Sat Fat; 9 g Mono Fat; 39 g Carb; 6 g Fiber; 5 g Sugar; 126 mg Calcium; 4 mg Iron; 1228 mg Sodium; 66 mg Cholesterol
Serve with a green  salad  and a crusty bread.
During the long slow cooking the beans pick up the flavor of the meat, and the meats become meltingly tender. A steaming portion in the cold winter  will lift your spirits!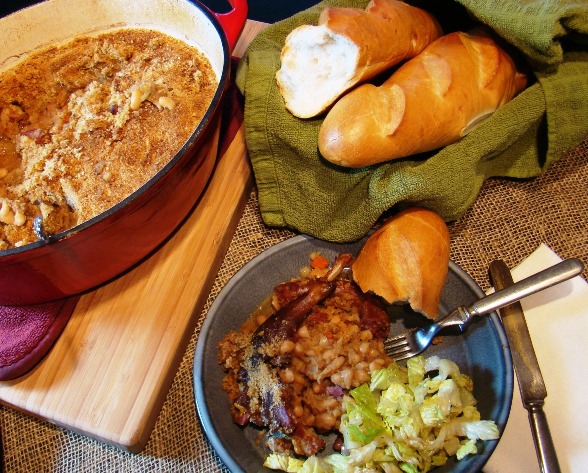 Until next time, Eat Well & Keep Digging!
HAPPY NEW YEAR!

Related posts: