Shiny New Toy trial run
For those of you following along, I built and used a cold smoker last fall and winter.  Since then I've been looking into a hot smoker.
Leading up up to my purchase, I looked at some of the cabinet smokers at the big box store – but they seem poorly built.
I don't have the metal working or welding skills (yet!) to construct my own. So, after more research on the internet, I went with the 18.5″ (diameter) Weber Smokey Mountain, a charcoal fired smoker with two racks. 
Today I fired it up for the first time – 1 large rack of pork spare ribs and a pork shoulder.
A generous amount of my homemade rub:
RUB Recipe
1/3 cup brown sugar
1 tablespoon Coarse salt
1 tablespoon Sweet Spanish paprika "Dulce"
1 teaspoon garlic powder
1 teaspoon ground cumin
1 teaspoon ground mustard
1 teaspoon oregano
1/2 teaspoon thyme
1/2 teaspoon black pepper
1/2 teaspoon chili powder
The shoulder needs to go about 8 hours so we'll start that first.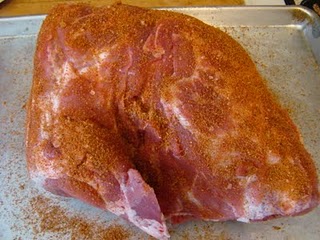 Next, fire up the smoker….. I'm using the "Minion Method"
I put on 3 chunks of  applewood, filled the water pan, set the lower rack and added the pork shoulder.
As this the first firing, I'll have to check often to keep the temp in the 225-250F range. I'm checking it every 10 minutes initially, hopefully I can stabilize it and let it go for 3 hours before I add the ribs. It did stabilize at 225 for several hours. I added the spare ribs to the top rack.
I addED a bit more charcoal, and wood to take this to 9 hours total.
Glaze with your favorite sauce.

Plate up with some beans and slaw….
This was delicious, and it has a nice smoke ring.
The butt is cooling until I can shred it. Is it just me or does that sounds odd?
Until next time, Eat Well & Keep Digging!
Related posts: