This colorful, crunchy, and unique salad contains no lettuce, and is primarily made of root vegetables. A mandolin is use to slice the beets and radishes very thin, and a vegetable peeler – it needs to be sharp – is used to make ribbons out of carrots and asparagus. Be careful when cutting the vegetables! A quick chill in ice water will keep the ribbons crisp and will help curl them up.
For best effect, use the most colorful produce you can find. Chioggia beets, also known as candy stripe beets, as well as rainbow carrots bring a pop of color to your finished plate. Regular beets and carrots would work just fine as well.
A quick pickle brings a tartness to the dish while your very best extra virgin olive oil, a grind of pepper and a sprinkle of flaky salt finish off the dish
Shaved Salad with Quick Pickled Beets
Special Equipment – Mandolin & a Quality vegetable peeler
Serves two
[tw-divider]INGREDIENTS[/tw-divider]
1 cup (250 ml) mild vinegar – Rice or champagne
1 cup (250 ml) water
1 cup (250 ml) granulated sugar
2 Tablespoons kosher salt
1 teaspoon pickling spices (optional)
1 medium (2-3 inches) Chioggia beet peeled and sliced very thinly across the grain on a mandolin
1 medium golden beet peeled and sliced very thinly across the grain on a mandolin
A bowl of ice water
4-6 rainbow carrots, scrubbed and in needed lightly peeled.
2 red radishes – sliced very thin on the mandolin I think slicing them length-wise makes them prettier
1 watermelon radish sliced cross-wise very thin on the mandolin
2-3 fat asparagus spears
Extra virgin olive oil – your best
Salt and pepper to taste
[tw-divider]METHOD[/tw-divider]
In a sauce pan over medium heat, combine vinegar, water, sugar, salt (and pickling spices if used) to make a brine
Bring to a boil
Place sliced beets in separate heat proof bowls
Place sliced radishes in bowl of ice water
When brine comes to a boil, pour over the beets, strain and reserve any extra brine
Set beets aside and allow to cool to room temperature
Using the vegetable peeler, cut ribbons from the carrots. Start at the top and shave towards the root ends. Don't turn the carrot. The goal is to make long carrot ribbons. Place ribbons into ice bath with radishes
Repeat the process with the asparagus, except start at the root end and shave towards the top. If your peeler is sharp enough, you'll get some interesting cross sections of asparagus, (If not, see NOTE below) place shaved asparagus into ice water bath
When beets have cooled to room temperature, compose the salad onto serving plates. It is composed as you are plating directly onto serving plate and not tossing in a bowl.
[tw-divider]PLATING[/tw-divider]
Remove vegetables from Ice bath, place on paper towels to drain, gently blot dry if needed
Remove beets from brine, blot dry and taste. Beet should be tender-crisp with a nice subtle pickle flavor
Arrange beets on plate
Arrange carrot and asparagus ribbons on plate
Arrange radish slices on plate
Drizzle a small amount (a teaspoon (5ml) or less)of strained picking brine over salad
Drizzle desired amount of your very best extra virgin olive oil over salad
Finish with salt and pepper, and serve
Throughout this recipe I've said to use your best extra virgin olive oil. This salad is the perfect use for it, the simple ingredients really shine when paired with good quality oil.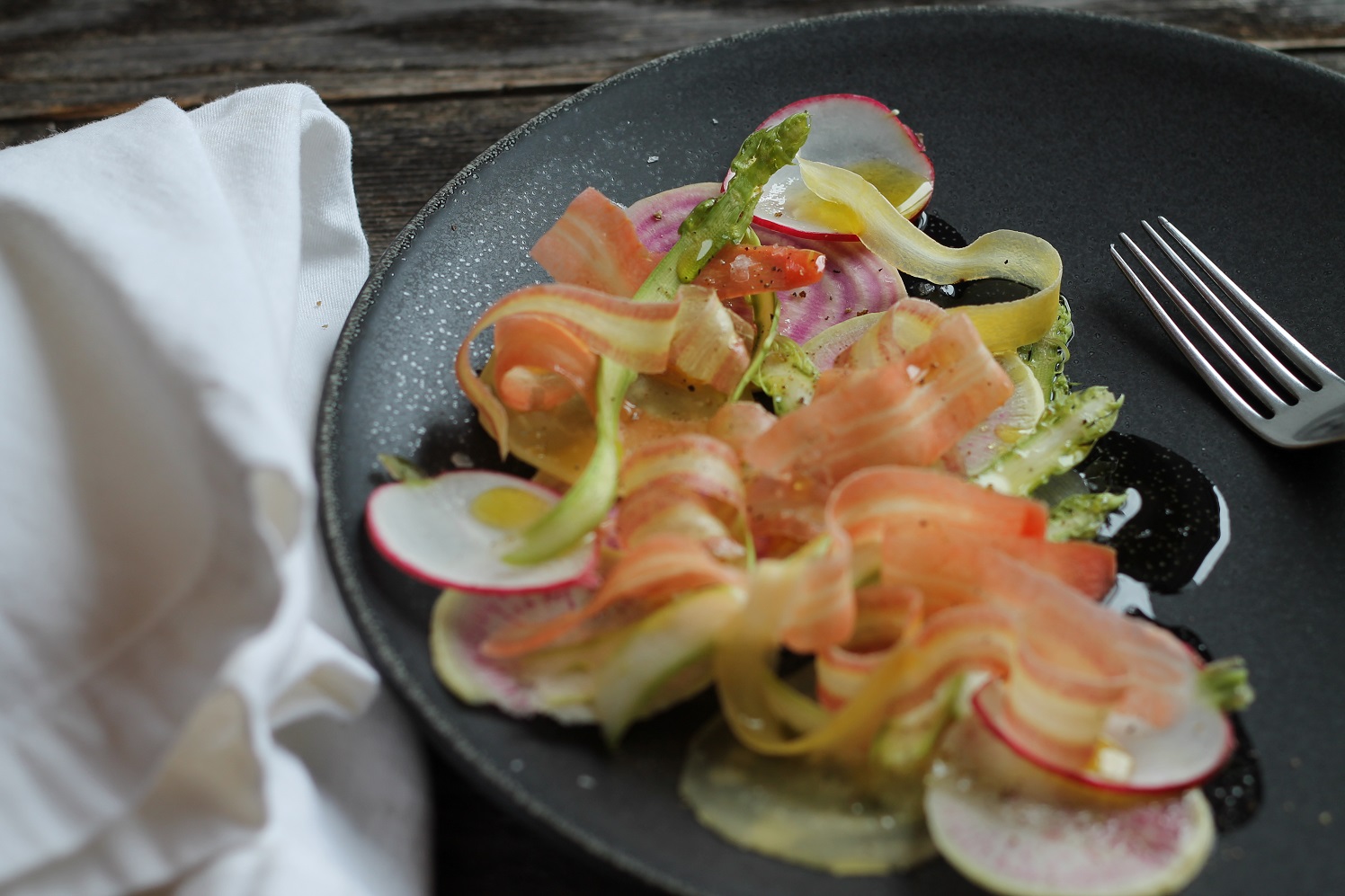 Crunchy, sweet, sour, vegetal. This salad is a perfect to start to an elegant spring meal.
Until next time, Eat Well & Keep Digging.