It's been while since I've made my  Seafood Diablo, and since I had a bit of fresh tomato sauce from Saturday that didn't make it into a jar I decided to give it a go.
Seafood Diablo
(serves 4 generously)
1 lb mixed seafood – thawed under running cold water in a colander
2 cups tomato sauce
1 Serrano pepper finely diced ( use any hot pepper you want)
2 small sweet peppers sliced
1 cup chopped onion
4 cloves garlic chopped
2 TBS olive oil
1/4 – 1/2 cup vinegar based hot sauce
1 lb dried pasta
Put large pot of water on to boil for the pasta. Follow box instructions.
Add olive oil to large pan over med heat, add peppers, onions and garlic. Cook stirring occasionally until onions are soft.

Add the tomato sauce, and stir. This was a bit thin so I cooked it down a bit.

Add pasta to boiling water.
Add seafood mix to sauce. Reduce heat to medium

While pasta boils, cook seafood gently.
When pasta is just about al dente, add it to the sauce.
Add hot sauce to taste.
Toss (or stir)to coat in the sauce until pasta is finished.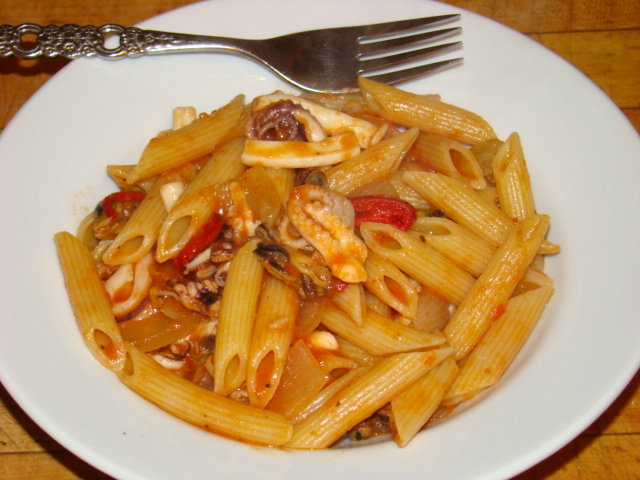 Enjoy!
Eat Well and Keep Digging!