I had a couple beef shanks in the freezer that I took out to thaw yesterday.  Shanks need a long slow cooking and this is a perfect technique.
Red Wine Braised Beef Shanks
1.5 to 3 lbs beef shank
1 large onion, halved and sliced
4 cloves garlic, peeled and lightly smashed
1 tbsp Herbs de Provence
1/2 cup Red Wine
Beef Stock, to cover
Olive Oil, for searing
Salt and pepper to taste

Yes, I used a very nice wine but it will go great with dinner!
Place a large dutch oven or stock-pot with a tight fitting lid over medium high heat.
Season both sides of beef generously with salt and pepper.
Add 2 tbsp. olive oil to pot and swirl to coat.
Place Beef shank in pan and cook for 2-4 minutes per side, or until a deep, rich crust is formed.

Add onions, garlic and herbs.

Pour wine over shank and shake pan vigorously.
Add stock until beef is barely visible.
Press vegetables down into the liquid.

Reduce heat to low, cover and simmer for 4 to 5 hours, or until beef is fork-tender.
Test for seasoning and simmer an additional 20 minutes. At this point I removed them and put them in a warm oven wrapped in foil.

While the shanks were cooking I made the white beans. I make them rather like risotto, a slow simmer slowly adding broth – in this case beef broth.

In a pan over medium high heat, add some garlic.

Add 1  diced carrot, 2 diced celery stalks and a little broth, cook until vegetables are tender.

Add beans, and some broth.

When beans are tender, mash them coarsely, and add a little more broth.

Simmer the beans on low heat to drive some of the moisture out.
Meanwhile, strain the beef cooking broth to remove solids, return liquid to the pot, increase the heat to high, add a tablespoon of butter and bring to a boil.
Add a little slurry of cornstarch and water. Add to the broth, and whisk until broth thickens into a gravy.
Remove shanks from oven.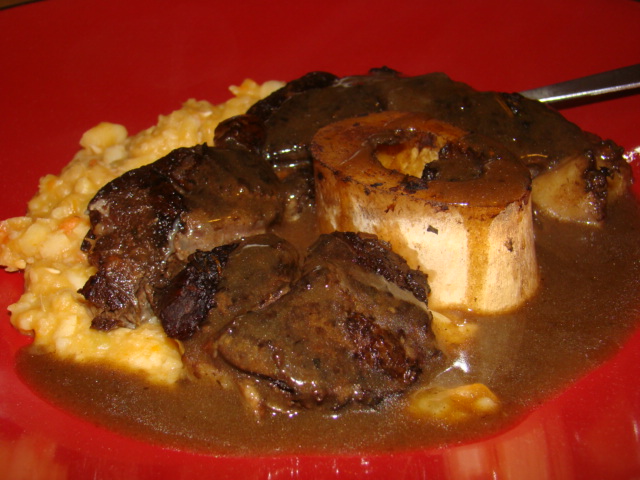 Plate some bean puree, a shank, and spoon some of the gravy over the top. I must say, it was fantastic! Rich gravy, melt in your mouth beef, and hearty beans. Make this soon!
Until next time, Eat Well & Keep Digging!