Most people I know don't use the greens from some of the common root vegetables, radishes, carrots, beets, turnips. They throw them away or compost them. But the greens are also edible, and in some cases delicious!
I was out pulling the last of the asian radishes, and they had beautiful tops. I've cooked radish greens before, they are slightly peppery and mildly bitter, perhaps not a taste for everyone. I was, however, determined to use them!
I adapted a recipe I've made before for panfried chickpeas, but this one uses the radish greens in place of spinach, adds a splash of balsamic to offset any bitterness, and omits the chorizo from the original recipe. It was light, fast and a change of pace. Give it a try!
Radish Greens & Balsamic Glazed Chickpeas
1 bunch radish greens, rinsed, dried and rough chopped (could substitute any quick cooking green)
1 15oz can chickpeas drained, rinsed, and dried (dried is important)
3 scallions sliced
2 tablespoons olive oil divided
1 tablespoon balsamic vinegar
Hot cooked rice, white or brown or grain of your choice.
Salt and pepper
Sesame oil for drizzling
In a large pan over medium high heat add 1 tbs olive oil. Heat until shimmering
Add greens and pinch of salt and pepper. Cook until wilted and tender – about 3-5 minutes
Remove cooked green to a plate. Wipe out the pan and return to heat.

Add 1 tbs olive oil and dry chickpeas.
Gently panfry until peas are golden brown
Add balsamic vinegar (it will steam vigorously) and toss to coat.

Plate rice, top with cooked greens, then fried chickpeas.
Garnish with sliced scallions and drizzle of sesame oil.
Super fast – it's ready in less time it makes to cook rice.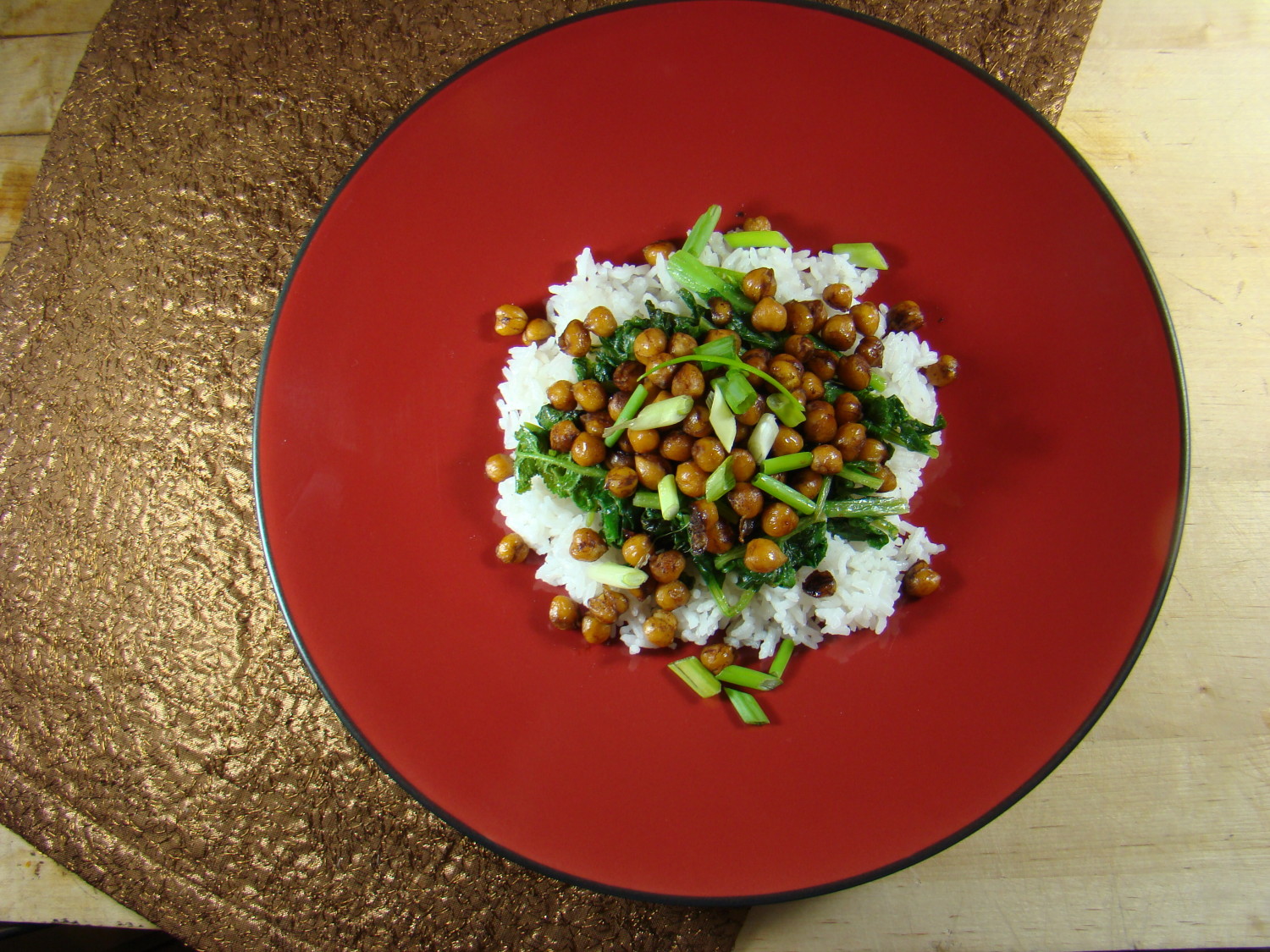 While perhaps not something the kids would like, it was a healthy change of pace and a super way to utilize an often neglected food source.
Until next time, Eat Well & Keep Digging!
Related posts: