I'm loving the pseudo-cereals of late, and while I've done Quinoa before, this is a little different take. Perhaps this is a bit of a fussy presentation but after the rustic BBQ I thought I'd go a little downtown vegan.
Super simple – just a few ingredients and  flexible to what you have in your icebox, this makes a great side or perhaps starter or, in a big enough portion, an entree.
I'm also pleased to report the shallot and butternut squash are from the garden last summer.
Quinoa Pilaf on Butternut Squash Galettes
1 cup Quinoa rinsed (don't forget this important step, else the end result can be bitter) until water runs clear
2 cups water
2 cloves garlic minced
1 shallot minced (substitute 2 teaspoons finely minced onion)
1 cup mixed diced vegetables – I used a mix of carrot, celery, sweet peppers and mushrooms.
3 tablespoons chopped parsley
1-2 Tablespoons olive oil
1 top part of a butternut squash – peeled and sliced thin either with a knife or a mandolin. (BE CAREFUL!)
Salt and pepper to taste
Preheat oven to 400F
Dice the vegetables small with the exception of the squash.
Slice the butternut squash top. I used a mandolin.

Line a baking sheet with foil, oil using a little olive oil. Lay one circle of  squash down then surround that with other rounds making a small galette of squash.

Drizzle with olive oil and add a pinch of salt (it will help remove moisture).
Take another piece of foil, oil it and place the oiled side down on the squash galettes.
Place another baking sheet on top and place in the oven.
While squash galettes roast, add  1 tablespoon olive oil to 2 quart sauce pan on medium heat.  Add all diced vegetables except for garlic and shallots.
Cook stirring often until vegetables soften and give up some liquid.

Add garlic and shallots and continue to cook until shallots are translucent.
Add rinsed quinoa, and stir to coat with oil.
Add 2 cups water, stir and increase heat to high. Bring mixture to a boil then reduce heat to medium and cover.
Simmer for 12 minutes.
Check the galettes – they should be getting tender. Return to oven.
When quinoa has absorbed all the liquid, remove from heat, fluff and allow to stand for 15 minutes.
Stir in 2 tablespoons chopped parsley – fluff again.
Remove galettes from oven and gently transfer to serving plate.

Pack pilaf into a small bowl for formal presentation. Using a spatula to cover the bowl, invert it and carefully center over the galette.
Garnish with last bit of parsely.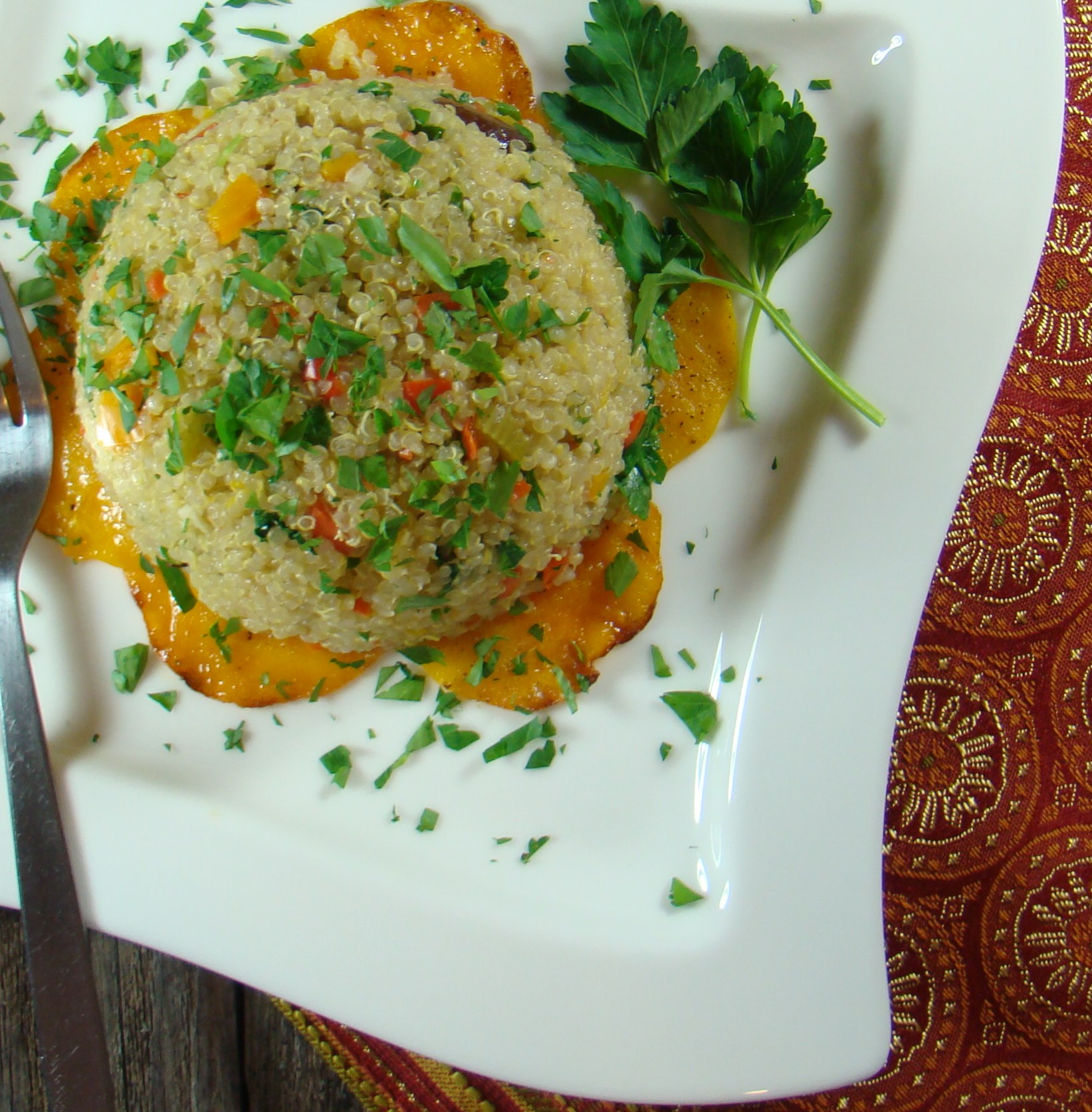 The savory quinoa atop the sweet tender squash was an excellent vegan dish for a cold Meatless Monday.
Until next time, Eat Well & Keep Digging!
Related posts: