Pumpkin Ravioli with Sage Butter Sauce
I've made this before but not for a few years. A perfect meatless dinner!
There are many of recipes for this on the Internet and in cookbooks. Look a few up and make it your own.
You can make your own pasta if you are so inclined, but the general availability of wonton wrappers makes this unnecessary unless you want bragging rights.
Ingredients for the filling:
2 cups pumpkin puree (we had some in the freezer left over from the wife's pie making at Thanksgiving)
1/2 cup cottage cheese drained in cheese cloth (squeeze the liquid out, you could also use Ricotta)
1/2 cup finely minced onion
1 clove garlic finely minced
2 Tbs grated Parmesan
1/2 tsp ground sage
pinch freshly ground nutmeg
2 Tbs butter
For the ravioli – Wonton wrappers
For the sauce
4 tbs butter
Fresh whole sage leaves.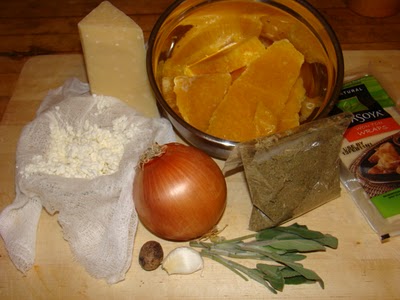 Grate the Parmesan, nutmeg, and add the ground sage.
Melt 2 Tbs butter in a sauce pan over medium heat.
Add the onion and the garlic. Cook, stirring often until soft and fragrant. You don't want to brown it.
Add the pumpkin. Reduce heat to medium low & cook gently. I'm trying to drive off some of the moisture.
I ended up adding another chunk of pumpkin (this brought it up to about 2 cups as listed above).
When thick, add Parmesan, sage and nutmeg. Stir to combine. Add the cheese.
Continue cooking until the cheese is incorporated.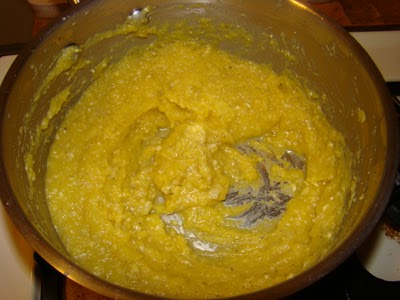 I'm looking for a mashed potato consistency.
It goes into a bowl to chill. I like this time of year as we can just pop things out on the porch.
Prep the wanton wrappers.  Brush some water around the edges. You can see that on the far wrappers.
Add a scant tablespoon of filling in the middle. This picture really is too much filling. Use less.
Fold in half and crimp the edges with a fork.  It is easiest to pick them up to fold them in half. Keep working. It takes time but is worth it. This is about a third of them. The rest go out on the porch to freeze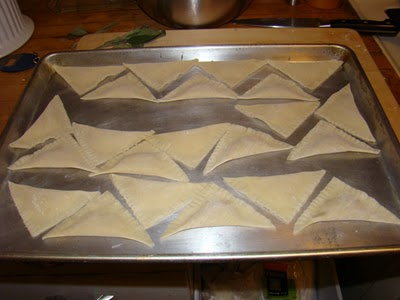 Bring a big pot of salted water to the boil.
For the sauce, melt some butter (4 tbs).
Melt over medium heat. Add the sage leaves.
Remove leaves to a paper towel to drain. Continue cooking butter until light brown.
Reduce heat under the water so it is not a rolling boil. The ravioli are fragile.
Add ravioli to the pot. Cook for 4-6 minutes, until pasta is tender.
Add to the browned butter. Toss very gently to coat.
Plate and garnish with sage leaves.
For the amount of butter, it is really pretty light (well, I'll try to convince myself of that).
The pasta and filling are light and savory. The filling was surprisingly sweet since there is no sugar added. Must just be the pumpkin.  If you have the time, give this a try.
Until next time, Eat Well & Keep digging!
The Gastronomic Gardener
Related posts: