Product Review – Flaming Joe's Caribbean Style Jerk Sauce
I've been waiting to do this review for a long time. Flaming Joe's Caribbean Style Jerk Sauce is a heady brew that is fantastic on pork, chicken and seafood.
This sauce has won many awards including:
2005 Scovie Awards 2nd place winner in the Amateur Division.
2006 Scovie Awards GRAND PRIZE winner in the Amateur Division.
2008 Scovie Awards First Place winner in the Professional Division. Cook-It-Up category, Jerk seasoning.
2009 Fiery Food Challenge Golden Chile Winner – Jerk Seasoning (Original Hot)
2009 Fiery Food Challenge Third Place winner Jerk Seasoning (Mild)
2010 Fiery Food Challenge – 2nd Place Jerk Seasoning -Caribbean Style Jerk Sauce – MILD
2010 Scovie Awards – 5 entries, 5 awards!
1st Place, Sweet Heat, Jams/Jellies Island Fire Tropical Fruit & Habanero Marmalade
2nd Place, Sweet Heat, Jams/Jellies Strawberry Jalapeño Jam
1st Place, Barbeque Sauce, Unique Caribbean Style Jerk Sauce HOT
2nd Place, Barbeque Sauce, Unique Caribbean Style Jerk Sauce MILD
3rd Place, Meat Required, Jerk Seasoning Caribbean Style Jerk Sauce MILD
Professional Division. -Cook-It-Up category, Jerk seasoning.
With this pedigree, it certainly has a reputation to uphold.
Flaming Joe has a unique logo that can't be missed! Don't be scared, flavor is is the key, the heat secondary.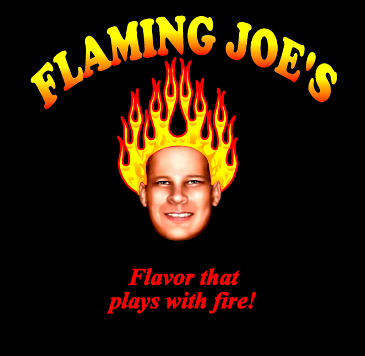 There are two flavors of the Caribbean Style Jerk Sauce. Original and Mild. Today I used the mild, the difference is the mild has 1/4 the habenero of the original. If you like the heat, by all means use the original!
Here are the ingredients:
key lime juice, soybean oil, soy sauce, green onion, Worcestershire sauce (vinegar, water, corn syrup, salt, molasses, carmel color, spices, garlic, natural flavorings, anchovies, tamarind, dextrin, and sulfating agents), ginger, habanero pepper, brown sugar, garlic, cilantro, chili powder, spices, xanthan gum, guar gum, sodium alginate.
Upon opening the bottle you smell spice and the worcesterchire sauce. It smells delicious!
I poured some in a plate to get a good look. While it looks a bit gritty, it isn't. It's just chock full of spices and herbs.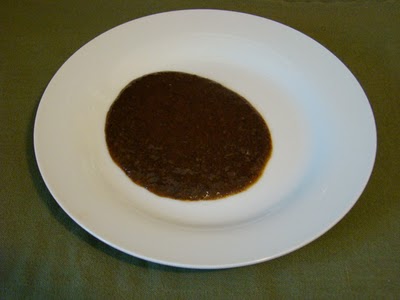 I decided to make jerked pork sandwiches with a pineapple cole slaw.
Trim a pork loin of most of the fat, and cut for butterflying. That is, every other cut goes all the way through and the others go almost through the meat.
Open up the butterflys.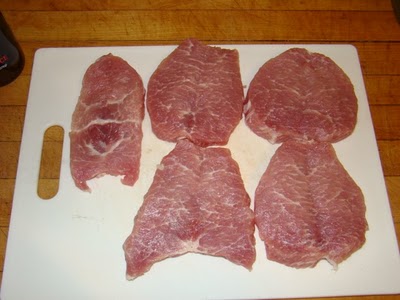 Place the pork in a large zip bag and add some jerk – I used about 1/2 to 3/4 cup. Here it is with the mexican bread I got at the market.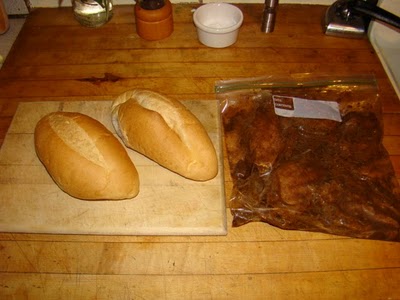 Put the pork in the fridge and let marinate for a few hours or overnight. A day or two would only deepen the flavor.
While the pork marinates, I whipped up some slaw with crushed  pineapple. I wanted some sweet and crunch to  offset the jerk.
Prep the grill. – That is get it very hot, scrape and oil. Add the pork.
The pork is thin so it will cook pretty fast. Five minutes a side. Six if you don't like a little pink. These days, commercial pork need not be cooked to well done.  Holy cow does it smell good!
Toast the buns.
Pull them off the fire and let them rest a few minutes. Five minutes if need be.
Assemble Sandwich. Bread, Pork, Slaw. So simple. So good. The way good food should be. Add some just picked tomato and some spicy pickled green beans.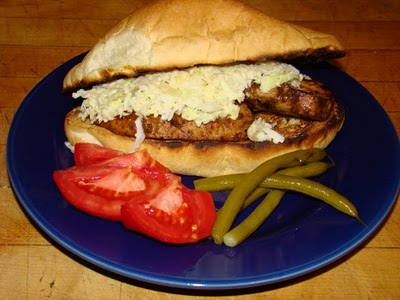 That thing is too big to handle all at once so slice it in half.
The toasted bread, the savory pork and the sweet and crunchy slaw was magic. My wife said between bites,"You know, this tastes like summer!"  I have to agree! It was tangy, sweet, a nice amount of heat.
Get yourself some today!
Flaming Joe's Website
FULL DISCLOSURE:
I am a personal friend of Flaming Joe. I was there when he was developing his sauces. My wife and I  have traveled to Albuquerque to help him at the Fiery Foods show. We had a blast and sold a bunch of product as well as soaking up the party festival atmosphere!
That said, this was an uncompensated review, I'm just happy to be able bring his great product to you!
Eat well and keep digging!
The Gastronomic Gardener