If  I am only going to eat one meal today it might as well be a good one! I spent the day outside cleaning up the yard, helping out at a friends house and starting the smoke shack build. I'm tired and hungry and happen to have some Spanish chorizo on hand.
Spanish chorizo differs from Mexican in that is is not wet and requires no cooking. The chorizo and the sweet paprika (dulce) color this dish a beautiful red. You could make this with regular paprika but it would not be the same or nearly as good. Serve with crusty bread. Add a salad and a Spanish Riojo – a great meal for a cold winter night.
Potatas a la Riojana
[tw-divider]INGREDIENTS[/tw-divider]
3 tbs extra virgin olive oil
2 cloves garlic chopped roughly
1 small onion or ½ a big one finely sliced – about a cup
7 oz chorizo sliced into rounds
½ pound good baking potato (Idaho or russet) peeled and cubed
1 tsp pimenton dulce (sweet paprika)
8-16 oz cold water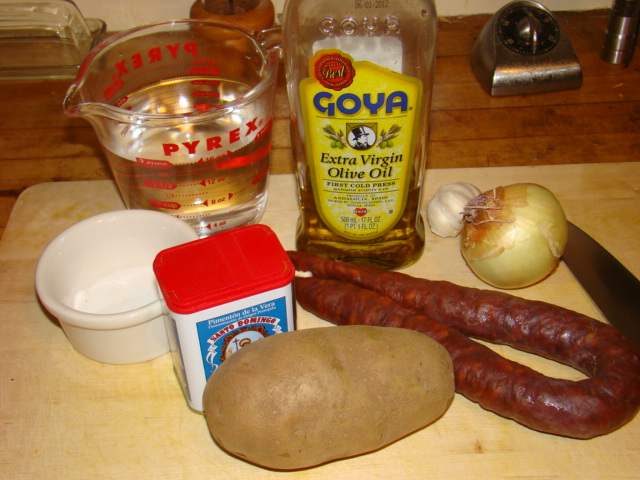 [tw-divider]METHOD[/tw-divider]
In a large sauté pan warm oil over medium heat, add garlic
Cook for about a minute until garlic begins to brown
Add onions and cook gently about 20 minutes until light brown

Add chorizo and cook until browned – 2-5 minutes. It will release fat and color into the pan

Add potatoes to pan, toss to coat with oil and cook for 10 minutes, stirring occasionally

Add paprika, stir
Add enough water to almost cover the potatoes and chorizo.

Cover and bring to a boil, reduce heat and simmer for about 20 minutes or until liquid is reduced by half. If you want to thicken it you can use little cornstarch and water slurry.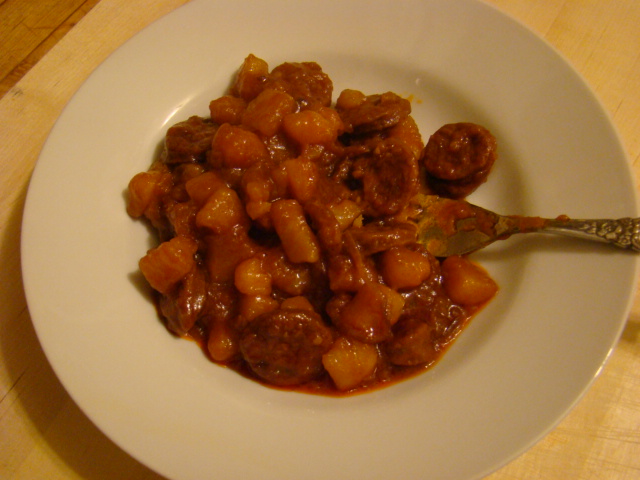 Serves 4 . Maybe….
Until next time, Eat Well & Keep Digging!
>