I am working through the Charcuterie book, having done bacon and I am now setting off on a Pastrami adventure. I am picking these recipes to get started as they are seem easy and I like the end product.
I imagine thin sliced Pastrami on rye, with dark mustard. Sounds delicious!
Pastrami is a close cousin to corned beef, the main difference is once it is cured, it is heavily seasoned then smoked prior to steaming, while corned beef is often boiled. But the beginning steps are the same.
Brisket is the preferred cut. From what I've read the point is preferred for corned beef and the flat for the pastrami but perhaps I got that backwards. In any event I trimmed the brisket into two cuts removing almost 2 lbs of fat.
Here is the cut I brought home.


And after broken down to two cuts.


Now the cure. If you're following along, the bacon was a dry rub and the pork belly gave up it's liquid to form a brine. It also took an excruciating week of waiting. This time we'll make a brine and the curing will be down to 4 days.
Homemade Pastrami
for the brine
1 gallon water
1 1/2 cups kosher salt
1 cup sugar
1 1/2 oz pink salt
1 Tablespoon pickling spices
1/2 cup packed brown sugar
1/4 cup honey
5 garlic cloves minced
for the rub
1 Tablespoon black pepper corns
1 Tablespoon whole coriander seed
Combine all brine ingredients in a big pot bring to a simmer, stir until salt and sugar dissolve.

Remove from heat, allow to cool to room temp then refrigerate until chilled.
Add the beef to your container, pour brine over the top to completely cover, use a plate to weigh it down.

Now into the fridge for 3-4 days (I'll do 4 so I can smoke on Sunday as it looks like a good day weather-wise).
Four days later, remove the meat from the brine rinse it off.

A rub is prepared:

Toast the coriander seeds and pepper in a pan over medium heat, swirling until fragrant. Grind in a grinder, or motor and pestle.

Cover the meat with the ground spices and  refrigerate over night.
Cold smoke for 5-6 hours.
Into a pan on a rack with some water.  Bring to a simmer, cover and pop in the oven (275F) to steam-bake for  2-3 hours until fork tender. allow to cool, the refrigerate.
I have to test it! This is right out of the oven, and the picture is poor quality but you can see the signature color, bright pink. As with the Canadian bacon, the end pieces are quite salty, but good.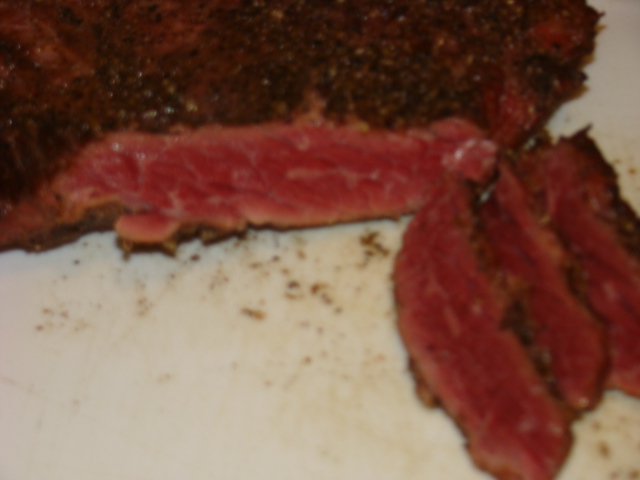 The next morning I sliced up the point for packaging and freezing. Looks good doesn't it?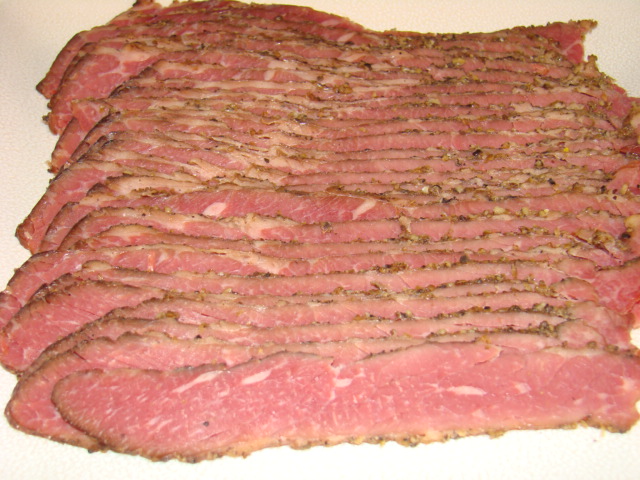 Only thing left to do now is to make that sandwich for lunch! Homemade bread, mustard and pastrami. A cold beer and it doesn't get much better than this!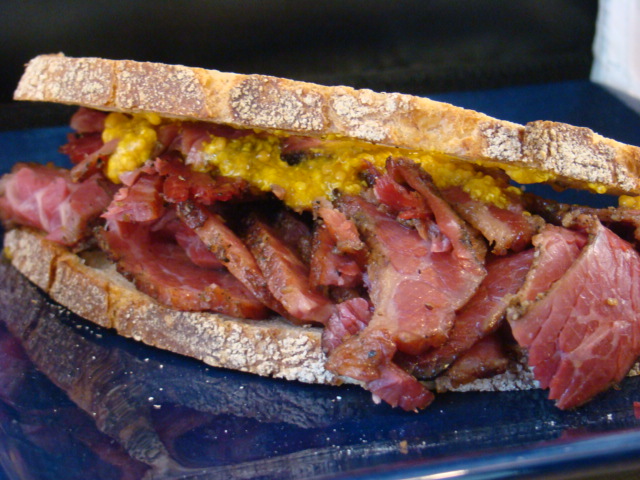 Until next time, Eat Well & Keep Digging!
Related posts: