Not in the mood for a big dinner production tonight, I looked around the kitchen. So I have some Italian bread that has seen better days, tomatoes from the garden, a giant cucumber, basil, … hmmm…
Ah!Panzanella !
A good way to not waste anything and a pretty fast and hearty salad. That's right, bread salad.
Panzanella
Slightly stale bread
tomatoes
garlic
red onion
cucumber
basil
olive oil
balsamic (or any other you like) vinegar
salt and pepper to taste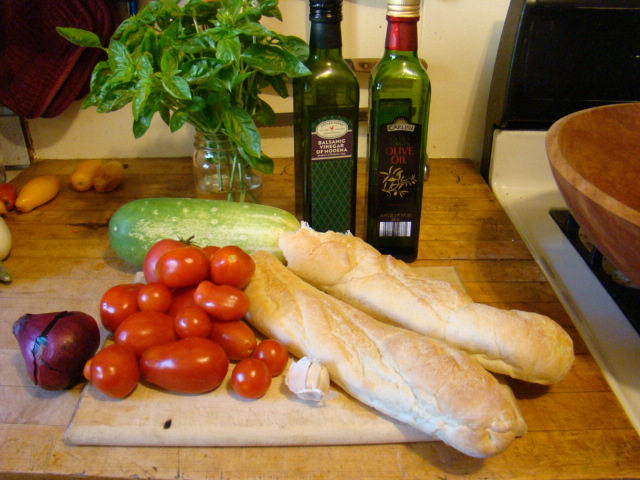 Cut a garlic clove and rub in the salad bowl. Discard
Mince the remaining garlic and slice the red onion – add to bowl.
This cucumber is a monster! Peel, halve, remove seeds and cut into a big dice. Add to bowl.

Chop the tomatoes, tear the bread up. Add to bowl.

Shred basil by hand, add to bowl.
Add generous amount of olive oil and vinegar and toss. Add salt and pepper to taste.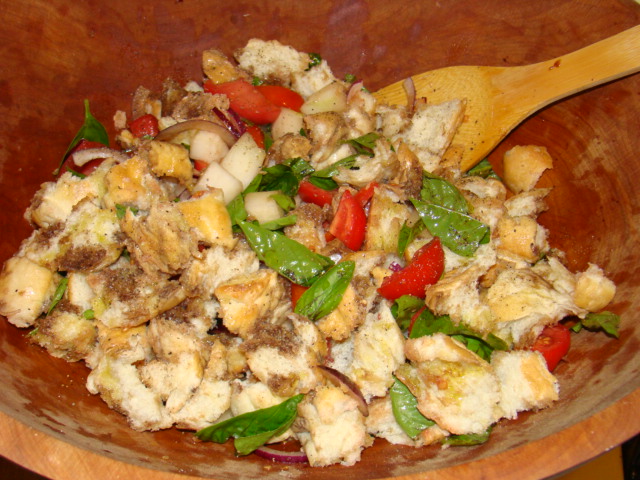 Serve it up and enjoy.
Dinner in less than 10 minutes! Warm some soup while you are making this and you have a very filling meal.
Until next time, Eat Well & Keep digging.