I am enjoying the process of making sausages. This one is a Nurnberger style bratwurst. It was a little tough to find a recipe. Some called for caraway but checking with a German colleague disabused me of that notion, they all called for beef, veal specifically, but I couldn't find any so I used chuck roast (I had some left over from the Kielbasa adventure). the primary seasoning is marjoram.
Nurnberger bratwurst is a name protected under EU law, and the exact recipe is a closely held secret by the sausage makers in Nurnberg. It is a smaller sausage, thinner than the common bratwurst you get in the States, so it calls for lamb casings rather than hog casings.
Nurnberger style Bratwurst
2.5 lbs pork shoulder
1.5 lbs veal ( lean)
1 lb back fat
8 tsp salt
2 tsp ground white pepper
¾ tsp mace
½ tsp nutmeg
4 tsp marjoram
Here are the spices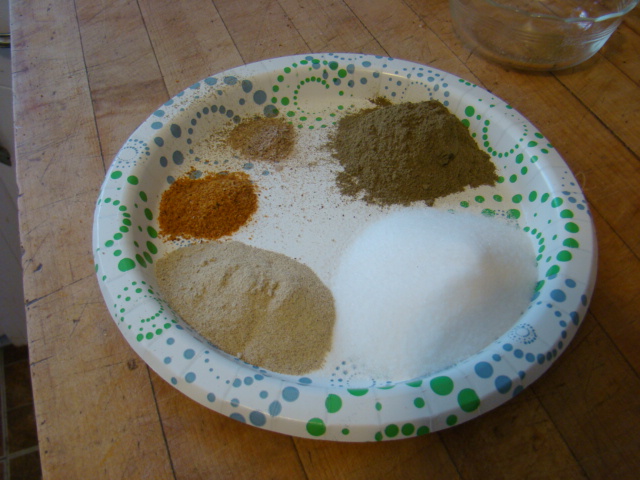 Grind meat through small plate.
Mix thoroughly with spices, grind again.
At this point make a small patty and fry it up to check seasonings. I thought it was rather salty but, decided to forge ahead anyway.
Stuff into small casings, tying off at 4″ or so. I'm not the best at this so some are bigger than others. Ah well, the perils of homemade.

Into a big pan with some water to poach. I want them cooked so all they need is a little time in the pan or grill.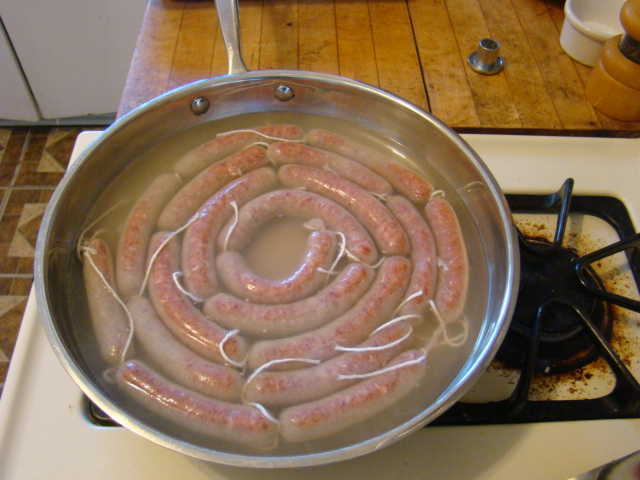 When all is said and done, I have nice batch of sausages!


The ones in the foreground may have had a blowout or are too stubby to package. They were sacrificed to the taste test. I grilled them and they are unlike any sausage I've had, mild, beefy, a hint of nutmeg. In other words, pretty subtle. But good! And they did not taste oversalted so I was happy about that.
I vacuum sealed the rest, and popped them in the freezer. We'll see if they pass muster with a few of my German colleagues.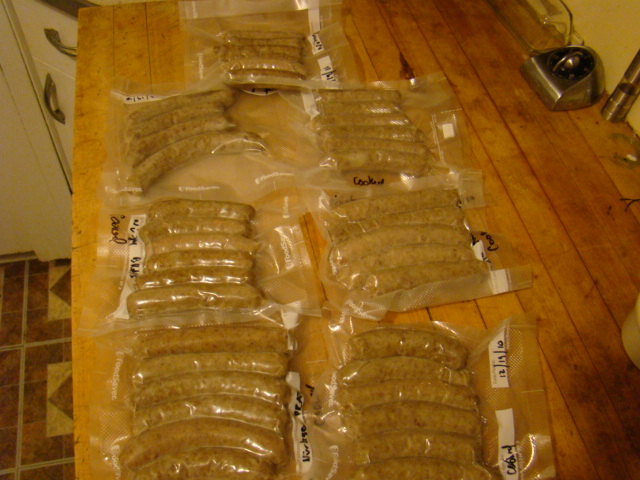 Until next time, Eat Well & Keep Digging!
Related posts: