I had some left over polenta from the other day that I had poured into a pan. One thing I like about polenta is how it sets up, making a wonderful item for sauteeing to a crispy crust and then adding whatever suits your fancy.
I've had a taste  for shrimp and thought… hmmm shrimp n grits. But let's tart them up a bit shall we? As in most of the things I make, nothing difficult here, but the outcome is delicious! Here's how I did it.
Fancy Shrimp and Grits
Serves 2
6 huge shrimp – (6-8 count)
2 "pucks" of polenta – you could cut whatever shape you want
6 slices of bacon chopped into little pieces
2 Tbs chopped parsley
2 green onions chopped
1 clove garlic minced fine
Juice of 1 lime
1-2 Tbs olive oil
Salt and pepper to taste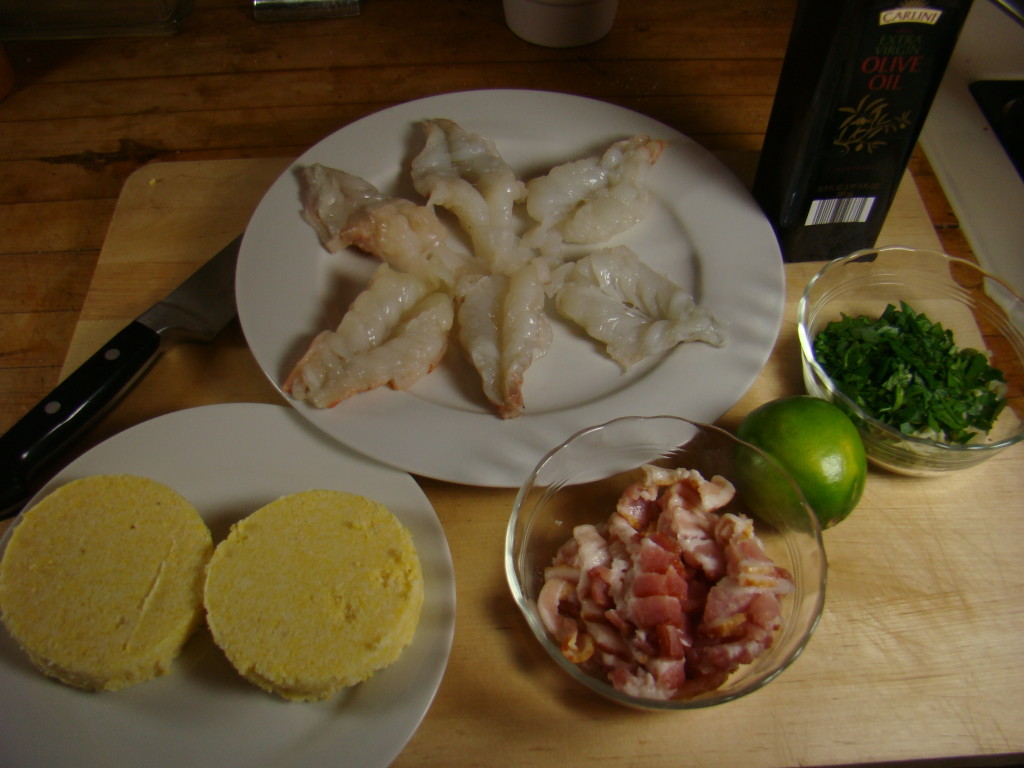 Preheat oven to low
Over medium- high heat, add the olive oil to a pan
Season the polenta pucks and shrimp with salt and pepper
Add polenta to pan and brown on both sides.

Remove polenta to oven safe dish, put in the warm oven.
Wipe out the pan and add the bacon. Cook until fat renders and bacon is getting crispy.

Remove bacon to paper towel lined plate with a slotted spoon or spatula.
Add the shrimp to pan and cook until just cooked through and pink, about 2 minutes per side.

Do Not Over Cook!

Add the onion, garlic, parsley and lime juice. Toss to coat and remove from heat.


I plated it up, puck on the bottom, three fat and succulent shrimp, some of the sauce and garnish with bacon bits.

Creamy polenta with a little crunch, tender shrimp, the lime adding just the right amount of acid and tang, and the smoky bacon. No it's not your grandma's shrimp and grits, and yes, it's a tad fussy presentation, but it was damn good! Put it on your menu soon!

Until next time Eat Well and Keep Digging!