Meatless Monday – Summer/Winter vegetable stuffed shells
Last summer we put up both pumpkin puree (frozen) and a nice tomato eggplant relish. It came to the dear wife to combine them both.
She made this last fall but didn't document how, so we set out  to document the process today. The sweet vegetables, and the savory creamed spinach topping are a satisfying combination. This can be made a day ahead and refrigerated until ready. You could probably freeze it too, but I haven't tried that.
Ingredients:
2 cups pumpkin  or squashe puree
2 cups tomato eggplant relish, recipe here
25 large pasta shells
2 bags spinach
1/4 cup chopped onion
1 clove garlic minced
3 tbs butter divided
2 tbs flour
2 cups milk
1/4 cup grated Parmesan
Salt and pepper to taste
Directions:
Preheat oven to 350F
In a food processor, puree the eggplant relish.
Combine with the vegetable puree with the pumpkin.
Cook pasta according to package directions, rinse.
Stuff shells with vegetable mixture, place in 9×13 oven proof pan. Spray first wth cooking spray or lightly grease.
Make the creamed spinach.
Over medium high heat, melt  1 tbs butter, add onions an garlic.
When onions are translucent, add spinach and cook until soft.
Transfer cooked spinach to food processor and pulse until chopped.
Melt 2 tbs butter over medium high heat, add the flour.
Cook, stirring for 5 minutes.
Add 1 cup milk – and whisk until mixture boils and thickens.
Add spinach and stir to combine.
Add another cup of milk, stir until thick.
Check seasoning – salt and pepper to taste.
Pour over stuffed shells.
Sprinkle with parmesan.
Cover with foil and bake for 30 minutes, remove foil and bake another 10-15 minutes until parmesan is golden brown.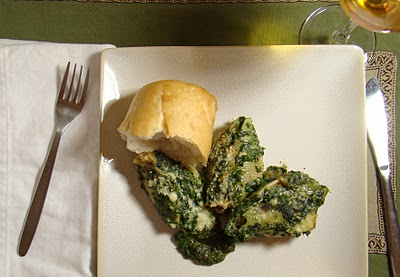 Until next time Eat Well and Keep Digging!
Related posts: