I've made this before but my recent harvests rather demand it. One keen eyed observer even predicted it! But with tomatoes, peppers, onions, eggplant, crooked neck squash, basil and parsley all from the garden it would be harder to justify not making it rather than repeating from a year ago.
I follow the suggestion from the  Gourmet cookbook and cook the components separately before combining them for a final simmer. The results are worth it!
Ratatouille
[tw-divider]INGREDIENTS[/tw-divider]
2-3 pounds of tomatoes roughly chopped – If you want you can peel them first, but I don't bother
2 big onions sliced thinly
2 lbs each of zucchini and eggplant cut into bite size chunks – I used crooked neck squash instead of zucchini
3 bell peppers, seeded and cut into 1″ chunks
1 cup chopped flat leaf parsley
1 handful of basil leaves torn in half – about 20
6-10 cloves garlic thinly sliced
1+ cup olive oil
1/2 teaspoon  fresh ground pepper
salt
[tw-divider]METHOD[/tw-divider]
In a large pot over medium heat, add the chopped tomatoes, garlic, parsley and basil and 1/3 cup of olive oil.
Bring to a simmer and cover. Simmer about 30 minutes until the tomatoes break down.
Meanwhile…. put the eggplant in a colander and sprinkle with salt. Place over a pan or in the sink while it drains.
In a big saute pan heat 3 tbs olive oil. Add the onions and a pinch of salt, cook until soft – about 10 minutes  – remove to a bowl with a slotted spoon.
Repeat procedure with peppers, crooked neck squash (or zucchini) adding olive oil and salt each time.

Finally, blot dry the eggplant, add another 3 tbs of olive oil (no salt) and the eggplant – cook until soft about 10-12 minutes.

Add all the cooked vegetables and black pepper to the simmering tomatoes. Simmer for another hour or so until the vegetables are very tender.
Taste and adjust the salt and pepper as needed.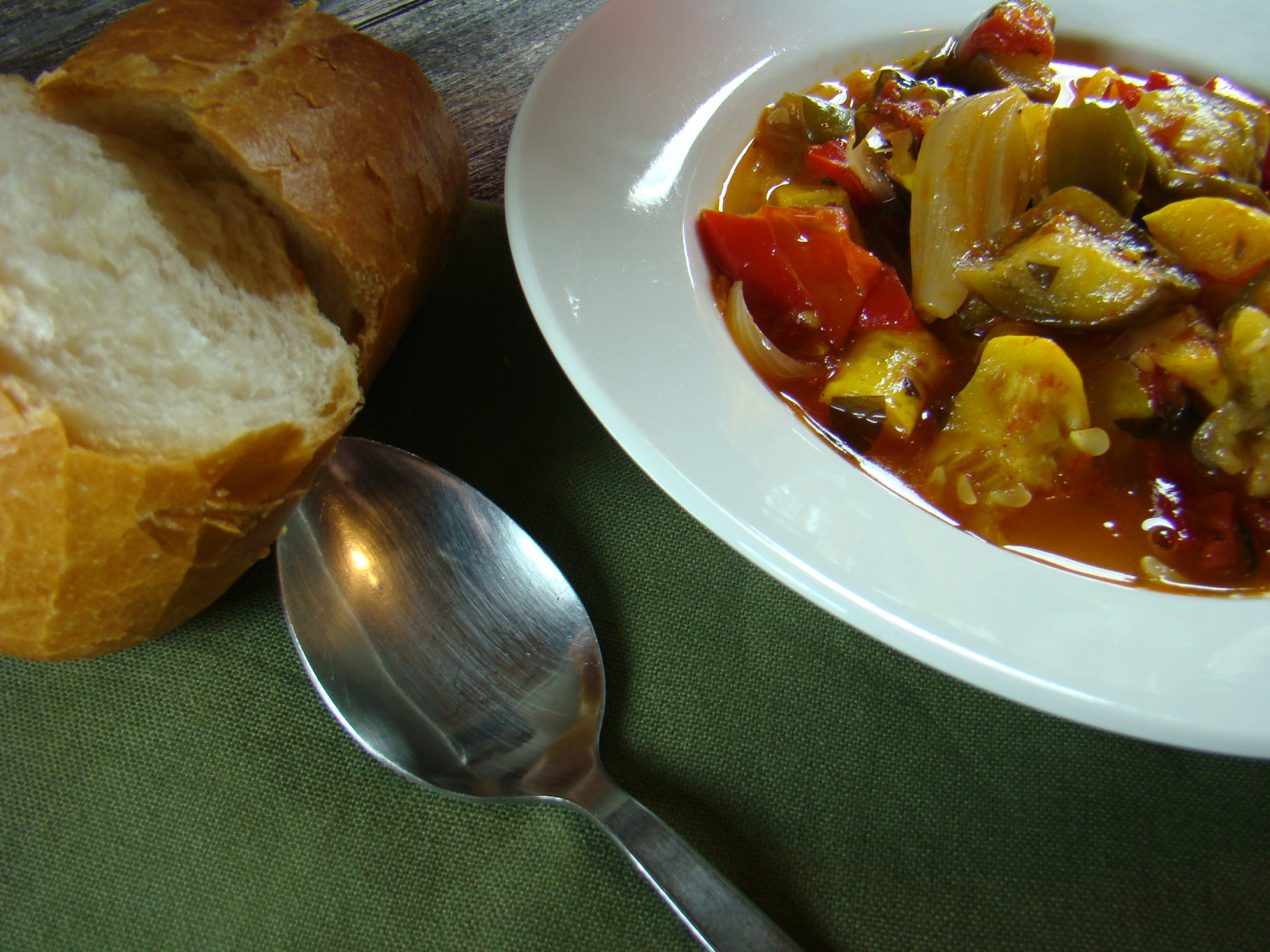 Serve hot, warm or room temperature with some crusty bread. It's like summer in a bowl!
Until next time, Eat Well & Keep Digging!