Polenta and Red Sauce with Mushrooms and Onions
Another Meatless Monday, and what's on hand?  Cornmeal, tomato sauce I canned in August, mushrooms, onions and decent Parmesan cheese. Not great cheese just decent. But these humble ingredients combione to form a very warming and comforting dish.
This recipe is adapted from Allrecipes.com.
Polenta Ingredients:
2 cups milk
2 cups chicken stock
1 cup coarse yellow cornmeal
1 cup Parmesan cheese
Red Sauce Ingredients:
2 cups spaghetti sauce, OR
2 Cups home canned tomato sauce
1/2 diced onion
1 cup  rough chopped mushrooms
1 tablespoon olive oil
1 tablespoon sugar
1 tablespoon dried basil
1/2 tablespoon dried oregano
Salt and Pepper
Preheat oven to 350F.
Grease a 9″ square baking dish.
In a large pot, combine the milk and chicken stock.
Bring to a boil over medium-high heat.
While milk stock mixture is heating, add 1 tbs olive oil to sauce pan over medium high heat. Add onions and mushrooms and a pinch of salt.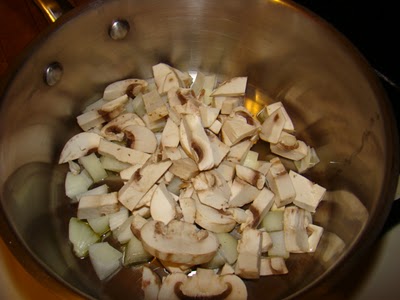 Saute until vegetables are soft but not browned.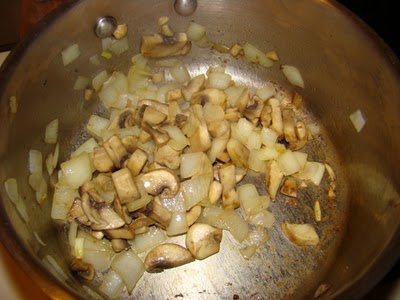 Add tomato sauce, sugar, basil, and oregano.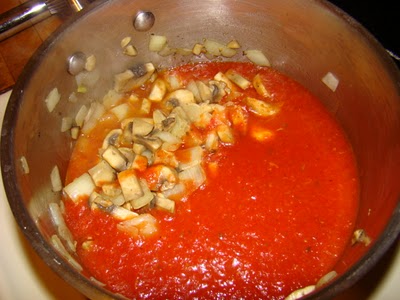 Reduce heat to medium low and simmer, stirring occasionally.
When milk / stock mixture is at a rolling boil, gradually whisk in the cornmeal, making sure there are no lumps.
Reduce heat to low and simmer, stirring constantly until thick, about 5 minutes.
Remove from the heat and stir in the Parmesan cheese.
Pour the polenta into the prepared baking dish.
Bake for 15 minutes in the preheated oven, or until polenta is set and no long runny. It may be a little loose but you don't want it runny.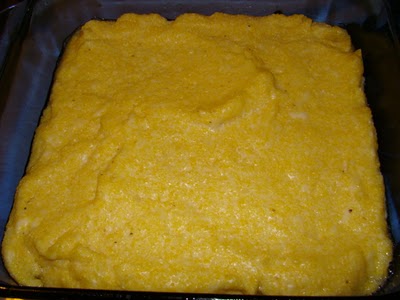 Check red sauce for seasoning and adjust salt and pepper.
Cut polenta into quarters and top with sauce and a little more Parmesan.
Serve hot.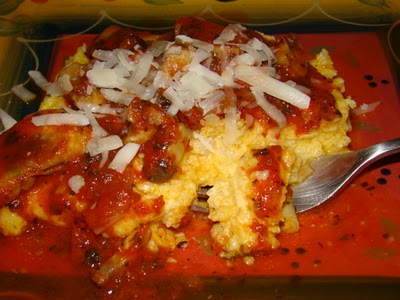 It's creamy, rich and satisfying.
Until next time, Eat Well & Keep Digging!
Related posts: