I was riding the train home from the city thinking about what to make. I have plenty of basil, and a colleague from Germany had chided me the other day that I had not yet prepared a risotto, so Pesto Risotto seemed a natural fit. I also used some of the sweet butter I made back in March. I always get excited when I'm dicing the shallots. "I'm cooking with shallots… that I grew!"  I didn't have any pine nuts for the pesto so I substituted walnuts.
It turned out to be quite filling and good, the creamy base notes of risotto punctuated by the high notes of the basil and garlic. A lovely chord indeed!
Pesto Risotto
Make the pesto first:
3 cloves garlic
1/2 cup walnuts
1 teaspoon salt
1/2 teaspoon black pepper
3 cups loosely packed basil leaves
2/3 cup +/- olive oil
Turn on food processor and drop in garlic. Process until finely chopped.
Turn it off, add the basil, cheese, salt, pepper, nuts.
Whizz until all is finely chopped, with motor running, add oil slowly until incorporated but not yet smooth.

Set aside.
Now the risotto:
1.25 cups arborio rice
1.5 cups white wine
4 cups vegetable broth
4 tablespoons butter divided
1 tablespoon olive oil
2 small shallots finely diced
big pinch of salt
big pinch of grounf black pepper
1/4 cup grated Parmesano Romano
1/4 cup pesto
Basil to garnish
In a medium pot over medium heat  add the wine and the broth.
Heat to simmer and then reduce heat to keep barely simmering
In a 4 quart pot, add two tablespoons butter and olive oil
When butter has melted, add the shallots and cook for three minutes until shallots are soft but not browned.
Add the rice and stir to coat with butter oil mixture, cook stirring constantly about 2 minutes.
Add 1/2 cup simmering wine broth mixture and cook – stirring until moisture is absorbed
Continue adding broth 1/2 cup at a time, stirring constantly until it is absorbed before adding next bit of broth.
Repeat until rice is tender, looks creamy but is still al dente – about 15 – 20 minutes
Stir in cheese, salt pepper and pesto.
Garnish with basil leaf and serve immediately. Add a side salad for a complete dinner.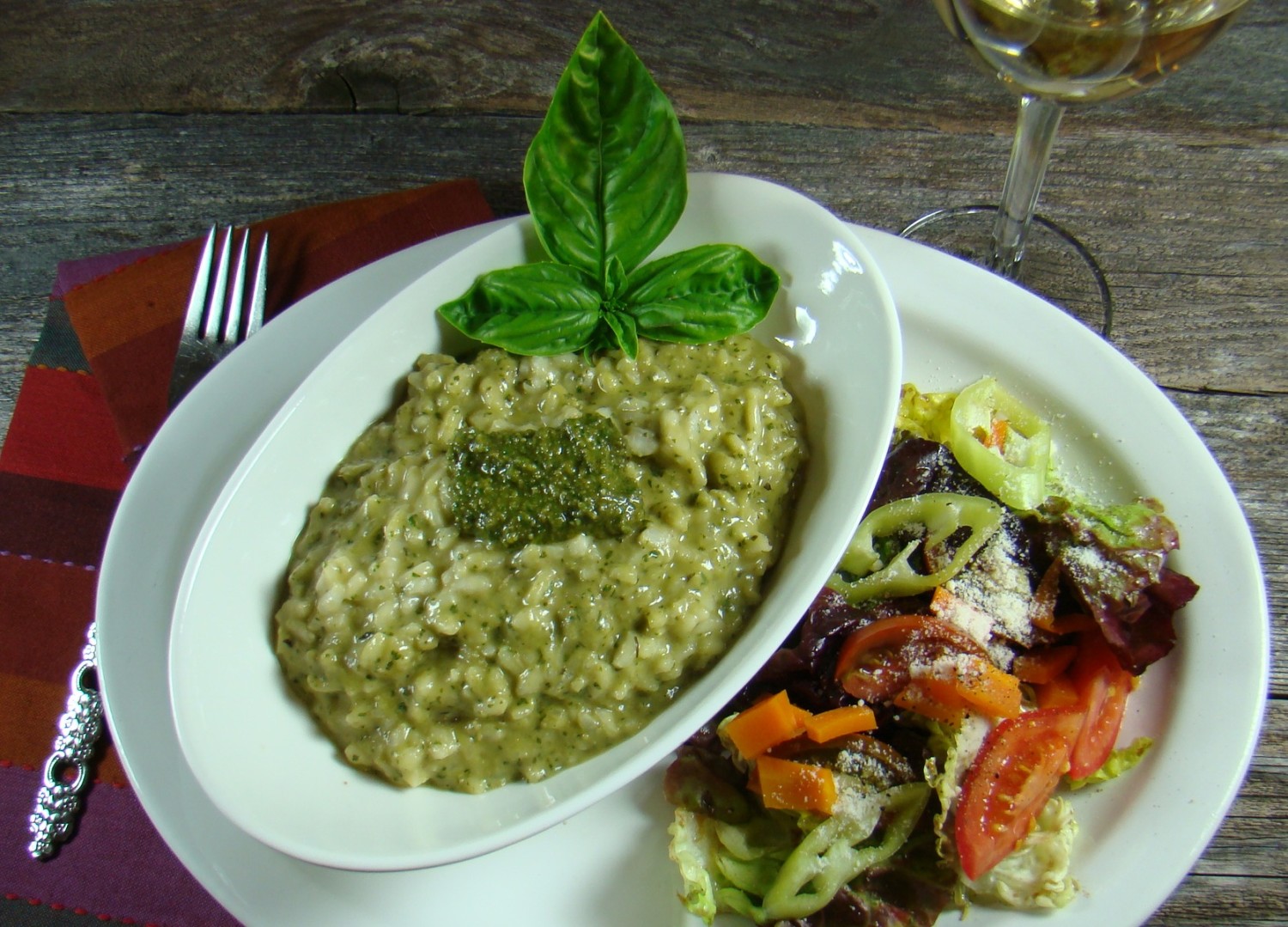 Until next time, Eat Well & Keep Digging!
Related posts: