Pasta with Morel Cream Sauce and Peas
Yesterday we went Morel hunting in the woods. Today we'll cook some up! This is a loose recipe, and very simple. A quick saute of mushrooms, a simple roux, heavy cream, delicious and ready in less than 20 minutes.
Ingredients:
Morels  – halved and cleaned
4-6 oz Vegetable broth
3-4 oz heavy cream
2 Tbs butter
4 oz peas
Salt and Pepper to taste
Pasta
 Aren't the Morels pretty?
Start water on to boil for the pasta – make it according to directions.
Add butter to pan over medium high heat. When it finishes foaming, add the mushrooms , brown lightly on both sides. Yes, these went a little long.  Yes, it still tasted great.

Remove the mushrooms from the pan, add the flour and stir it constantly for a few minutes to cook out the raw flour taste.
Add the broth and stir out any lumps, keep stirring until the mixture boils and thickens. Reduce heat to medium.
Add the peas and cook until tender. Add heavy cream, and mushrooms.
Heat through.
Add the cooked pasta, toss to coat.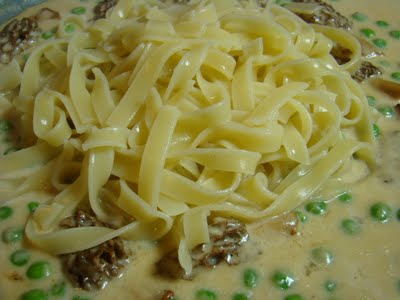 Plate and serve. You could grate some cheese on top if you want.
Pretty cool to have foraged for part the meal.
Until next time, Eat Well and Keep Digging
Related posts: