Indian Inspired Potato Cauliflower Stew
It's been a week sinced I posted here. My apologies.  I've been on holiday, busy in the garden, or haven't been inclined. In fact,  I nearly didn't post tonight. But here you are, the stew is simmering on the stove in the background.
It's a matter of checking the pantry and crisper, and seeing what you have on hand.  I have veggies, spices, and potatoes.
Ingredients:
1 large onion, halved lengthwise and thinly sliced
1 tablespoon olive oil
2 teaspoons curry powder
1 teaspoon ground cumin
1/4 teaspoon Chhole masala
1/8 teaspoon ground red pepper
3 cups medium cauliflower florets
1 14-1/2-oz can diced tomatoes, juice and all
1.5  cups white potato, 1″ cube
1.5  cups sweet potato, 1″ cube
1.5 cups vegetable broth or water
1/4 teaspoon salt
1/4 teaspoon freshly ground black pepper
Hot steamed rice if desired.
Directions:
Cook onion in hot oil over medium heat in a large saucepan until tender. About 5 minutes.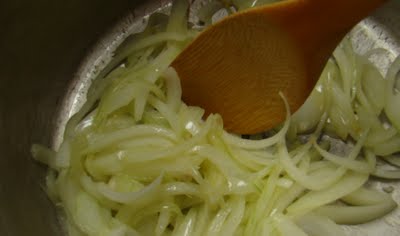 Add curry powder, cumin, masala, and red pepper. Cook and stir for about 1 minute, until very fragrant and spices are not dry.
Stir in broth, cauliflower, undrained tomatoes, potatoes, sweet potatoes, salt, and black pepper.
Bring to boiling; reduce heat. Cover.
Simmer, covered, until potatoes are tender, about 10 to 18 minutes . Time is not critical here.
Mash about 1/4 of the vegetable mixture.
Continue to simmer, uncovered until most of the liquid is evaporated.
If you get impatient (as I did), you can tighten up the sauce with a cornstarch slurry.
I served it with whole wheat pita,  plain yogurt and honey, and a little green chili pickle.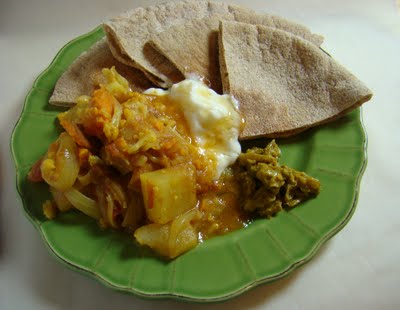 You could also serve the stew over rice.
Until next time, Eat Well & Keep Digging!
Related posts: