Falafel – a chickpea fritter that comes from the Middle East, is believed to have originated in Egypt where fava beans would have been used instead of chickpeas.  Now a common street food, you can even buy prepackaged falafel mix, which, in a pinch are OK. But nothing beats making this from scratch and they are ridiculously good (and simple). The key is to use chickpeas that have not been cooked, only soaked. The baking soda is important as it helps soften the legumes.
Convenient to make ahead, Falafel makes a filling meat free meal.
Falafel
1 3/4 cup (425 ml) dried chickpeas
1 cup (250 ml) chopped parsley
2 cloves garlic, lightly crushed
1 small onion, quartered
1 teaspoon (5 ml) ground coriander
2 teaspoon (10 ml) ground cumin
1 teaspoon (5 ml) salt
1/2 teaspoon (2 ml) black pepper
1/2 teaspoon (2 ml) baking soda
1 Tablespoon (15 ml) lemon juice
Pinch cayenne, or to taste
Oil, for frying (I used peanut)
Put the beans in a large bowl and cover with water by 3 or 4 inches  – soak overnight or about 8 hours, adding water if needed to keep beans submerged. They will triple in volume
Drain beans well (reserve soaking water) and transfer to a food processor. Process until grainy and no whole peas remain

Add the rest of the ingredients except oil
Process until minced but not pureed, scraping sides of bowl down; add a  little soaking water if necessary (it wasn't), the parsely seemed to give it enough moisture


It smells amazing!

Cover and place in  refrigerator until ready to fry. It is important to let it chill in order to tighten up a little
Put the oil in a large, deep saucepan to a depth of at least 2 inches; more is better
Turn heat to medium-high and heat oil to about 350 degrees (a pinch of batter will sizzle immediately)
Scoop heaping tablespoons of batter and shape into balls or small patties. Fry in batches, without crowding, until nicely browned, turning as necessary; total cooking time will be less than 5 minutes.
Remove cooked falafel to paper towel covered plate.
Serve hot or at room temperature with Pita, Tzatziki, Lebneh.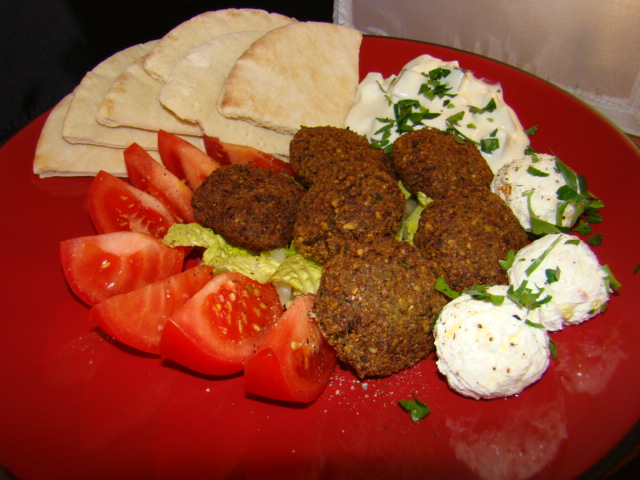 Crunchy outside, tender and savory inside.
Until next time, Eat well, and Keep Digging!
Related posts: