Sometimes I romanticize food, the smells, the textures, the memories or feelings it evokes. Savory tarts are one of those foods. They are easy to make, yet so different from normal fare around here. 
A room temperature savory tart, a bit of crisp greens, a glass of wine, and I could be many places other than a suburb of Chicago.
A while back I made a pizza with duck breast prosciutto and caramelized onion.  I keep going back to the onions, they were so sweet and rich.
Let's make a tart. Traditionally we would make a short crust pastry (a Pâte brisée) and we will show that one of these days, but today I'm going with an adaption of a recipe from over at Chocolate and Zucchini, (a fantastic foodie website that has been around since 2003! Go check it out.) It is nontraditional in that it calls for olive oil and whole wheat flour. A bit different than "normal" but very quick and easy. If you want to use the traditional crust, by all means – please do!
For the Tart
(Makes enough to line a 11- to 12-inch tart pan.)
8.8 ounces (about 2 cups but since I have a scale, I'll use it) 50/50 mix of all-purpose and whole wheat , plus more for dusting the work surface
1 teaspoon salt
1 teaspoon dried herbs (I used Herbs de Provence)
1/4 cup olive oil
1/2 cup cold water
Grease the pan lightly if it doesn't have a nonstick coating.
Put the flour, salt, and herbs in a medium mixing bowl.
Add the oil and mix with a fork.

Add the water, mix with the fork until it is absorbed, then knead lightly  until the dough comes together into a ball.

Turn the dough out on a lightly floured work surface.
Sprinkle a little flour on the ball of dough and on the rolling pin, and roll the dough out into a circle large enough to fit your tart pan.

Add a little more flour on the board or on the top when it seems like it is getting sticky.
Be fast about it, you don't want to overwork the dough as it would be tough.
Transfer the dough carefully into the prepared pan and line it neatly. Clearly this is not my forte. We'll call it a "rustic" tart!

Trim the excess dough, and place the pan in the refrigerator for 30 minutes to rest.
You can then blind-bake the crust (prick with a fork first), or fill it right away, depending on the filling.
In any event, it will take 20 to 25 minutes at 400°F to bake thoroughly.
For the Filling:

4-6 cups of sliced onions
1 large tomato sliced (optional)
2 tbs butter – or oil (or a combination)
1 tsp coarse salt
8 oz of cream cheese softened (goat cheese would be spectacular!)
1 tsp Herbs de Provence
1/2 tsp garlic powder
1-2 tbs Balsamic vinegar
In a small bowl, combine cream cheese, herbs, and garlic powder thoroughly. Set aside.

Slice the onions. They sure are pretty.

In a heavy pan add the butter and oil over medium high heat until the butter stop foaming.
Add the onions, sprinkle with salt.  Stir.  It looks like a lot, but will cook down a great deal.
Reduce heat to medium and cook, stirring often. You don't want them to crisp, just wilt and melt into super tender bits. Cook for about 20-30 minutes. If they start to brown too much reduce heat.

While onions cook, Preheat oven to 400F.
When onions are limp and cooked, add balsamic vinegar and stir.  Stir occasionally until onions are caramelized. Remove from heat, and allow to cool. They can be warm but you don't want them to be hot.
Spread or drop small balls of the cream cheese mixture evenly over the bottom of tart shell.

Spoon the onions evenly over the cheese.

Place tomato slices (if using) over the onions.

Bake in preheated oven – 20 -25 minutes.

Remove from oven  and cool for 10 minutes – or allow to come to room temperature.
Cut into wedges, drizzle with olive oil and vinegar (the acid makes it better) and serve with greens.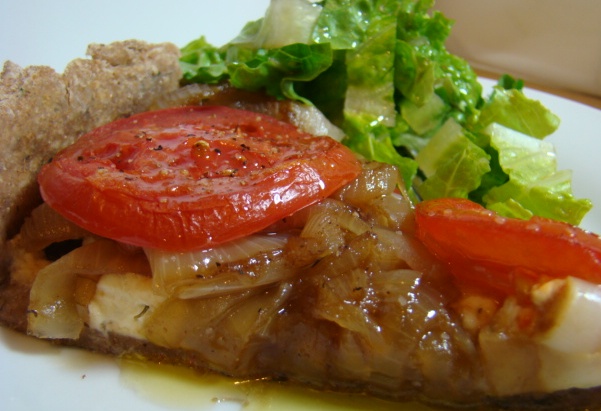 Add crusty bread and a crisp white wine for a complete dinner!
Until next time, Eat Well & Keep Digging!
Related posts: