With the kitchen back in order, we finally made our first "normal" trip to the market. While we were unloading the provisions I "discovered" a forgotten bag of leeks in the refrigerator. These leeks were harvested back in November and had been in a plastic bag with some paper towels to absorb moisture since then.
Surprisingly, I was able to get a little more than a pound of cleaned leek pieces which amounted to about 7 cups.
I wanted to use them up, and having already made potato leek soup recently I needed another recipe.
A little internet search yielded what I decided to make – Leek Jam – basically cook the leeks down very slowly until they lose their form and become a spreadable sweet onion-y jam. There are methods to make this and run in a canner for long term storage but in order to bother with that, one would need a very large quantity of leeks. This is a small batch and will be used up quickly.
Making this made the house smell so delicious even the cable guy commented when he came in to make repairs while I was cooking.
Here's how I did it:
Leek Jam
[tw-divider]INGREDIENTS[/tw-divider]
1 lb (500 g) (about 7 cups ~ scant 2 L) leek pieces trimmed washed, and cut into small pieces – Commercial leeks are more gritty than home grown, be sure to rinse them well.
2 Tablespoons (30 ml) oil – No need to use the good stuff, just a plain neutral oil is fine – canola for example
Big pinch of salt
3 cloves garlic conserva
Salt and pepper to taste
[tw-divider]METHOD[/tw-divider]
In a large dutch oven or deep pot over medium heat add 2 tablespoons (30 ml) of oil until hot but not smoking
Add leeks and salt, stir to coat leeks with oil

Reduce heat to low and cover pot, allow to cook slowly for at least 20 minutes without touching it
Remove lid, leeks should have cooked down and released a lot of moisture
Add garlic conserva, and mash with a fork or wooden spoon, stir into leeks
Continue cooking with the lid off, stirring often while moisture reduces
Leeks are finished when there is very little moisture and consistency is jam-like
Taste and adjust salt an pepper as desired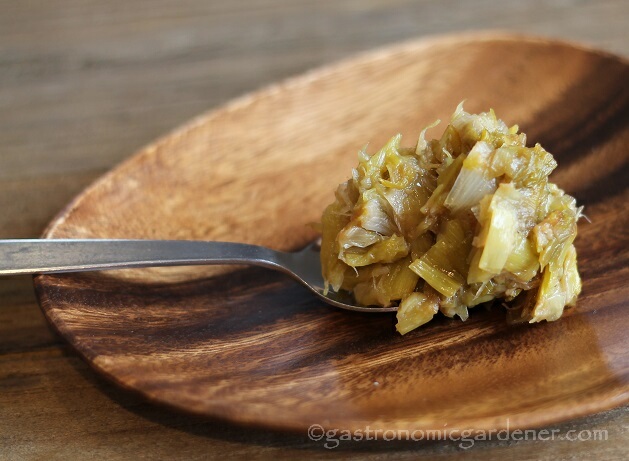 Use it however you'd like. As a sandwich spread, on crostini with goat cheese, stir into soups, smear it on a burger, fold into an omelet. Seems to me the uses are limited only by imagination! By the way, if you don't have leeks, you could certainly do this with sweet onions with good results.
Until next time, Eat Well & Keep Digging!