A traditional Mediterranean dish made from almost any ground meat, though sometimes vegetables are used. Normally formed as long torpedoes on wide flat skewers, you may also making small oblong patties (without a skewer) , in the latter case use a frying pan. This recipe may be used for both the smaller patties cooked in a pan or on skewers. I made the patties this time.
Lamb Kofta
1 lb ground meat – preferably lamb, but lamb/beef, or even ground turkey will work
3-4 cloves garlic minced
1/2 onion grated
1 green chili, finely chopped
1 Tbs ground coriander
1 tsp chili powder
1 tsp ground cumin
½ tsp ground cinnamon
¼ tsp ground ginger
1 tsp salt
1 bunch parsley minced (I used cilantro)
Measure out the dry spices

Mince the garlic, onion, chilli and cilantro – I used the food processor

Combine all ingredients in a large bowl and mix well.
Form into golfball sized meatballs.  Chill for an hour or over night.

Flatten and elongate into oblong shaped patties.

Heat 1 tbs oil in pan over medium high heat.
Cook in batches (add more oil if necessary) in a pan over medium heat until a crust forms, turn and brown other side.

Drain if necessary.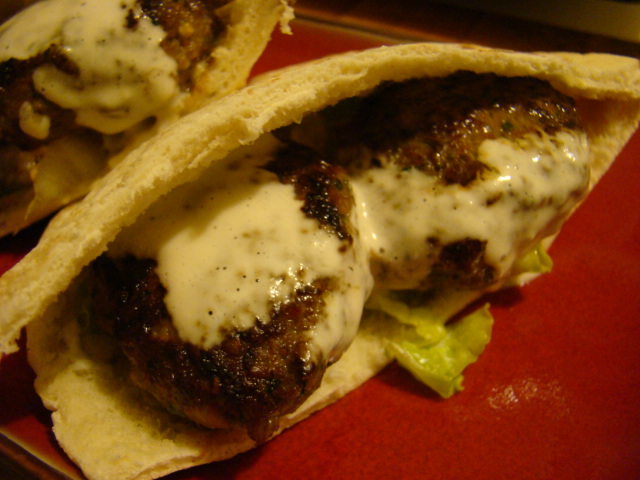 Served with pita, lettuce, and tahini lemon sauce.
Spicy, tender, moist and delicious. One taste can transport you to another place!
Until next time, Eat Well and Keep Digging!