One of my favorite meals is lamb chops.  I started these yesterday. 
Let's start with the marinade. Olive oil, rosemary, garlic, Calamata olives.
Chop the garlic.
Strip the rosemary.
Place the olives, rosemary and garlic in the food processor. 
Process ingredients, while adding olive oil until it becomes a smooth fragrant purple paste.
Nice Racks!
Place Racks and marinade in large ziptop bag.
Massage marinade into lamb. Place into refrigerator until an hour before cooking. Refrigerate for  several hours or overnight, up to a 24 hours.
One of the nice things about this meal is you can prep most of it the day before. This is the case with the Brussels sprouts.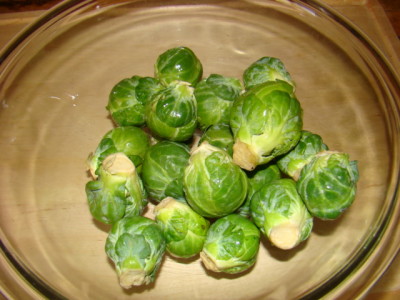 Trim and halve sprouts.
After steaming  (yes I forgot the picture) for about 6 minutes, put steamed sprouts in  cold water bath . At this point they may be drained and stored in the refrigerator before final prep.
Cut two bacon strips into lardons.
Brown in pan.
Remove lardons and drain all but 1 tablespoon of fat. Add sprouts, cut side down.
Cook until a slight char on the cut side and sprouts are heated through.
Now to get the beans going.
Ingredients
2 cups cooked white beans
2 tbs olive oil
2 carrots finely diced
2 celery ribs finely diced
2 small onions finely diced
2 cloves garlic diced
2 tbs butter
bay leaf
Breakdown the vegetables.
Oil, onions carrots celery, garlic.
Add stock butter and bayleaf. 
Simmer and stir uncovered until creamy.
While beans are cooking roast the chops. 425F for 18 minutes.
Remove and tent with foil for 5 minutes.
Finally we can plate them up, a bed of tender beans, two double cut  lamb chops, and Brussels sprouts.
This was a lot of steps but nothing difficult.
Until next time, Eat Well & Keep Digging!
The Gastronomic Gardener