Buckwheat, despite the name, is not related to wheat or cereal at all but rather is in the same family as sorrel and rhubarb. This grain is no longer a commercially important cash crop in the US but remains a staple in eastern Europe. Increased use of commercial nitrogen fertilization which enabled farmers to grow wheat  and corn crops more effectively pushed out buckwheat as a cash crop in the US. Russia remains the world's largest producer of buckwheat followed by China.
Buckwheat kernels are small triangular shaped seeds. Click on the picture for a closer look.
Buckwheat while starchy, is also high in protein (for a grain) as well as iron. What's not to like? Oh, and it's also gluten-free!
Buckwheat is flexible in that it is can be prepared sweet or savory. I'm just getting turned on to buckwheat and I have to say, alongside bulgar wheat, it may be new my favorite grain. Nutty, filling and with a great chew, it is earning a place in my pantry. I can't wait for the garden produce to make delicious cool grain salads this summer. But for now, snow is on the ground and smoke is rising from the chimneys. Today I want something warm and satisfying yet healthful for dinner.
Kasha in English generally refers to buckwheat groats or toasted buckwheat, but the term in Slavic languages is a rather generic term for porridge that may or may not include buckwheat.
Kasha Varnishkes comes to us from Russian Jewish immigrants. Based on delicious nutty buckwheat and bow tie pasta (Farfalle) – this Jewish comfort food is traditionally made with buckwheat, egg, onion, chicken fat, and chicken stock mixed with the pasta. I've adapted this dish for Meatless Monday, so while not "authentic" per se, it is a delicious dish that, accompanied by a green salad makes for a complete dinner that can be on your table in less than 30 minutes.
[tw-divider]INGREDIENTS[/tw-divider]
1 cup buckwheat groats
2 cups vegetable broth (or water)
2+/- tablespoons vegetable or olive oil
1 large onion diced or sliced – it doesn't matter
1/2 cup diced red pepper – (while not traditional, this dish could use some color)
1/2 cup sliced mushrooms
1 cup of farfalle pasta (to be vegan, make sure there is no eggs in the pasta)
Salt and Pepper to taste
Chopped parsley for garnish.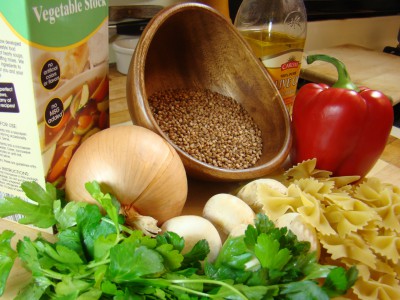 [tw-divider]METHOD[/tw-divider]
Put water on to boil the pasta (add salt if desired, I always salt water for pasta).
Over medium heat add the oil, and heat till hot,  then add the onions, mushrooms, and sweet peppers.

Cook stirring occasionally until tender and just starting to brown.
Add buckwheat and stir to coat with oil, add water (or broth) stir and cover.

Reduce heat and cook until tender about 10-15 minutes, stir occasionally to keep buckwheat from sticking. Cook until almost all moisture is absorbed. Check seasoning and adjust salt and pepper as desired.
While buckwheat cooks – add the pasta to the boiling water and cook until just tender.
Drain the pasta and stir into the cooked buckwheat vegetable mixture.
Serve hot.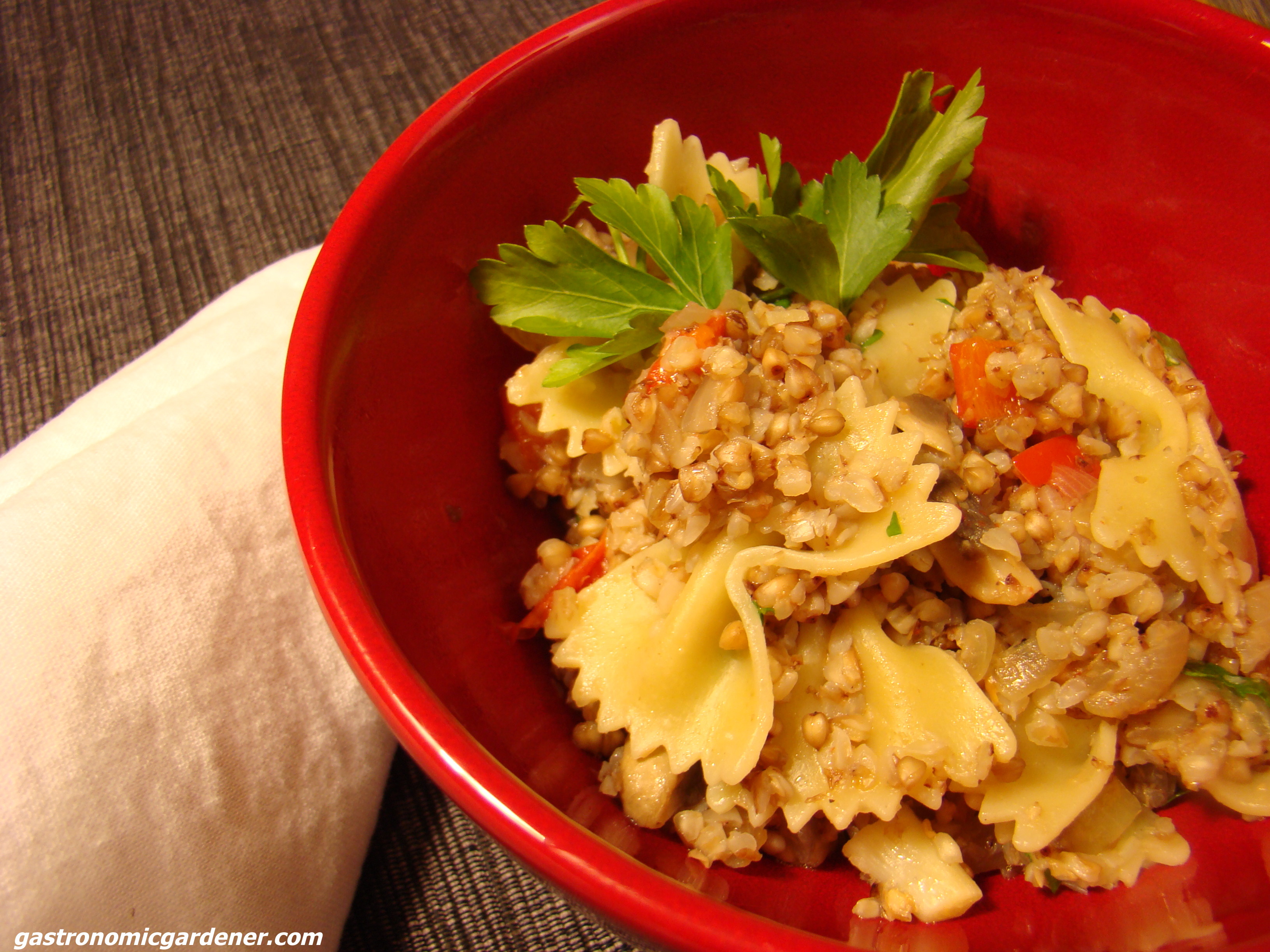 If buckwheat is not part of your staple grains, I suggest you give it a try!
Until next time, Eat Well & Keep Digging!