So it is time for an update. The last post was back on September 22nd – almost three months. I tend to be somewhat single tracked, so a big project can easily side-track me.
The Accountant decided back in August or so that she did not like the floor tile in the kitchen. Back in 2011 I posted on the blog that preceded this site about humble beginnings in reference to my tiny kitchen. The photo above is from that post.
Take a look at the offensive floor tile, horrible isn't it? I didn't think so either. But the Accountant didn't like it and started tearing it up. This only became worse and one thing led to another. For want of a kitchen floor a wall was lost, and all the cabinets, then all the walls, then a ceiling, then that wretched old wiring had to go, and gee those windows look terrible, let's replace'em! Gracious me! That tired old wood floor needs refinishing – hey what about the kitchen floor – ok porcelain tiles it is. Whew!
Back in 2011 I wrote "Someday I may have that nice kitchen, but for now, I'll keep my tiny kitchen and keep cooking for you!" Well, thanks to my bride (yes, going on eight years she is still my bride) and twelve years of saving my pennies for the project, that someday is going to be soon. A new kitchen and living / dining room all together – a great room, where we can enjoy our home and guests. Since the open kitchen is the focal point I'll be able to interact with guests and they can still gather "in the kitchen." Hopefully the project completes before the New Year. As a matter of fact, they are installing cabinets upstairs right now while I toil in the cold basement.
But, all this work has thrown a wrench into daily life. For a person who loves to cook, being without a kitchen for three months has not been easy. I won't want take out food for a long, long time.
This renovation has disrupted my ability to blog, to comment on your blogs, it even impacted my end of season gardening.
I could not preserve nearly the harvest I wanted to; so I gave some away yet much of it ended up in the compost. A waste to be sure, but not a total waste. I suppose there is always next year.
To be sure I am excited about the new kitchen, twice the storage – a new stove & oven, and hooray – a dishwasher not named David. Yet, in the old space I knew where everything was and and could work very efficiently even though it was cramped. I suppose this will be like getting a new, yet better dance partner. It'll be clumsy at first but eventually will make a wonderful partnership.
Please bear with me while we complete this project. I promise to share the results, and get back to my regular scheduled programming as soon as possible.
UPDATE 2013.12.11 Ok here's a tease. Still clearly under construction but you get the idea. Fridge is in the basic position the stove occupied previously. Perspective is from the far side of the space, and previously not possible due to a wall.
Update #2 Door handles make it look more finished

The side board turned out rather nicely.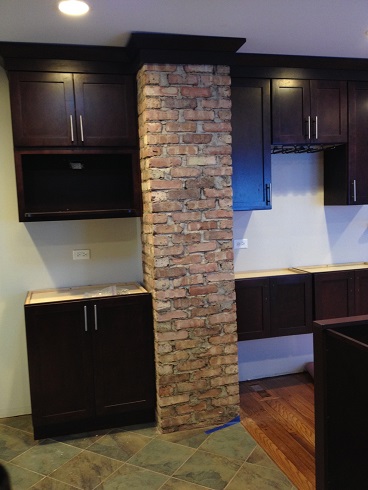 Still waiting on counter tops and appliances. 17 days and counting.
Until next time, Eat Well & Keep Digging!