Perhaps I underestimated the growth of the lettuce, but those little starts I put in have done very well. The issue now is with all the heat the plants are starting to bolt. Can't blame them for trying but if they get leggy and bitter they are not much use to me.
What to do? There are only so many salads the Student and I can eat. As of the writing of this post I've harvested nearly 8 lbs in the last month!  So here is what I did.
Lettuce Wraps
Just make the savory meat of your choice put in the middle and enjoy!  A great way to use up leftovers. These were smoked brisket wraps with Korean inspired sauce. Equal amounts soy sauce and sugar (about 1/4 cup each), a scallion, a minced clove of garlic, a splash of sesame oil, some sesame seeds and a hearty grind of black pepper. Some cilantro and scallion top as garnish.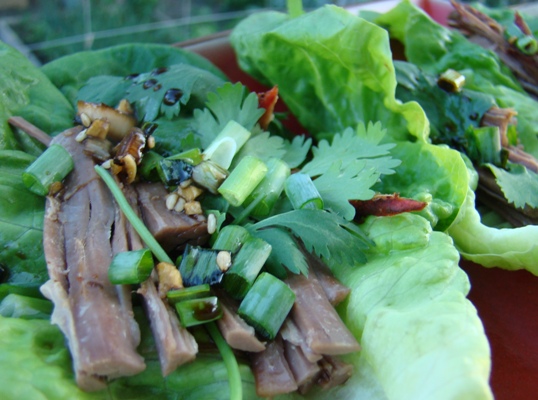 Stir fried lettuce
Heat some oil in a pan, add the cleaned and dried lettuce, stir fry until it wilts, add a little minced garlic and ginger, perhaps a splash of fish sauce, finish with a little drizzle of sesame oil and a sprinkling of sesame seeds. – An interesting side dish!

Grilled Lettuce
Yes, I even grilled some – simply rinse and dry a split head, brush cut side with oil and place on hot grill. It won't take long and you'll have an interesting charred side dish. For the sauce I whizzed up about 1/4 cup of left over radish top soup, an avocado, the zest of 1 lemon, juice of 1/2 a lemon and about 3 tablespoons of heavy cream.
You could also puree cleaned lettuce and freeze it to add to soups or stews. Creamed lettuce would also be a possibility.
As you can see lettuce isn't just for salads.
How do you use it up?
Until next time, Eat Well and Keep Digging!