It really doesn't get easier than this, but who takes the (very brief) time to do this? I'm making the mustard in preparation for a lovely pastrami sandwich.   I'm dreaming of home cured and smoked pastrami piled high on homemade rye bread with a thick smear of homemade mustard.
But I digress….
A couple thoughts, try to get your mustard seed from a small market and not in the cute little jar that costs an arm and a leg.
Homemade Mustard
1/2 cup whole mustard seed
1/2 tsp turmeric
1/2  heaping tsp ground mustard
1/2 cup cold water
1/2 cup vinegar ( I used cider vinegar)
a squirt of honey
Grind the mustard seed  coarsely. I used a coffee grinder I use for spices.
Combine the ground seed, the mustard powder and the turmeric.

Combine the water and vinegar. Add to the dry ingredients, add a squirt of honey and stir well to combine.
It may seem a little too wet, but the seed will absorb the moisture as it rests.
Give it a taste, it is pretty darn hot right now but should mellow after a day or two in the fridge.
That's it. Simple huh?
Now back to dreaming about that sandwich….. Oh, here it is….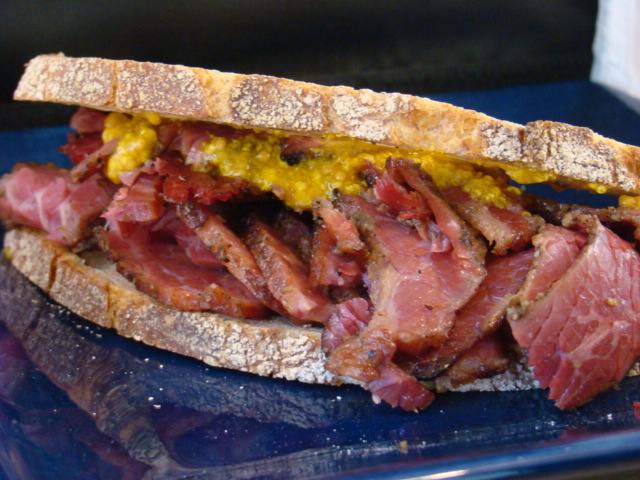 Until next time, Eat Well & Keep Digging!