Fresh Pickled Radishes
The radishes are coming in faster than I will eat them and there is a big batch behind these so I'll have plenty. You know I love pickles so I decided a quick pickle would be in order.
I thought this would be a great opportunity to use some of the chive infused vinegar I made a little while ago. It has such a pretty rose color and a mild chive aroma.
After reading a few recipes on line, this is what I came up with.
Use a knife, slicing attachment on food processor, or a mandolin set for thin slices to slice the radishes. I used a knife.
As this is a quick pickle, feel free to adjust sugar and salt to your taste.
Ingredients:
Sliced radishes – about 6 oz
1/2 cup chive infused vinegar
2/3 cup rice wine vinegar
1 -2 tablespoons sugar (to taste – I used 1 tbsp when I make it again I will use more)
2 teaspoons pickling salt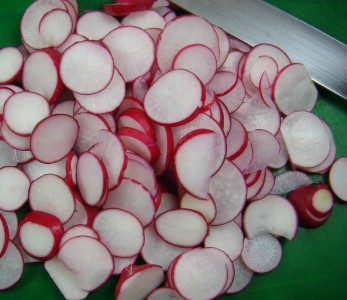 Directions:
Pack radishes in a clean pint canning jar
Place all the other ingredients into a small sauce pan
Bring mixture to a boil, stir to disolve salt and sugar
Pour over radishes in jar and cover
Allow to cool to room temperature then chill over night
Eat within a week
Out of the jar these look a little like pickled ginger one might find a sushi house.
Crunchy, sour, a tiny bit spicy,  the perfume of chives…. these would be were great on a BBQ sandwich, julienned and add to slaw or just as an addition to the relish tray.

So if you find yourself with a surplus of radishes, try pickling some for a different treat!
Until next time, Eat Well & Keep Digging!
Related posts: