Back in March one of my brothers was in town and my sister hosted a lunch. One side dish she served was a Lemon potato salad. It was light, refreshing and completely new to me.
Recently we celebrated my brother-in-laws 40th birthday and I was recruited to make sides dishes for about fifty people. The Accountant asked that I make this salad, being the dutiful husband, I called my sister for the recipe and found out it couldn't be easier!
Potatoes, butter, lemon zest, lemon juice, parsley, salt, pepper. That's it!
You might think that with the butter these would be very heavy but they are not, the butter combines with the starch of the potato and bind it into a salad, and the lemon and parsley give it a light bright flavor. I use the whole 8 tablespoons of butter but you can certainly cut the amount in half and increase to the desired consistency and flavor.
As there is no mayo or sour cream, this is an ideal salad for a buffet, it can sit out for some time without going bad.
Lemon Potato Salad

[tw-divider]INGREDIENTS[/tw-divider]
3 lbs (1.5 kg) smooth skinned potatoes, I used Yukon gold but new red potatoes would work just fine too
4-8 Tablespoons (60-120 ml) butter
1 Lemon
1/2 cup (125 ml) packed chopped flat leafed parsley
Salt and pepper to taste
[tw-divider]METHOD[/tw-divider]
Put a big pot of salted water on to boil
Peel potatoes and cut into big chunks all about the same size
Carefully put potatoes into hot water and cook until just tender
While potatoes cook, put butter into a small sauce pan over low heat
Grate or micro-plane the lemon zest directly into sauce pan
Cut the lemon in half and squeeze over the butter / zest mixture swirl or wisk pan to combine, keep warm
When potatoes are cooked, drain into a colander, and when potatoes are cool enough to handle cut into bite size pieces, and place into a bowl
Season with salt and pepper
Add melted lemon butter over the potatoes
Add chopped parsley, gently fold salad together taking care not to crush the potatoes
Taste and add more salt and pepper as needed
Serve warm or at room temperature. If you're making this ahead of time, chill until 1 hour before serving and allow to come to room temperature. The lemon will be more pronounced at room temperature than if the salad is served chilled.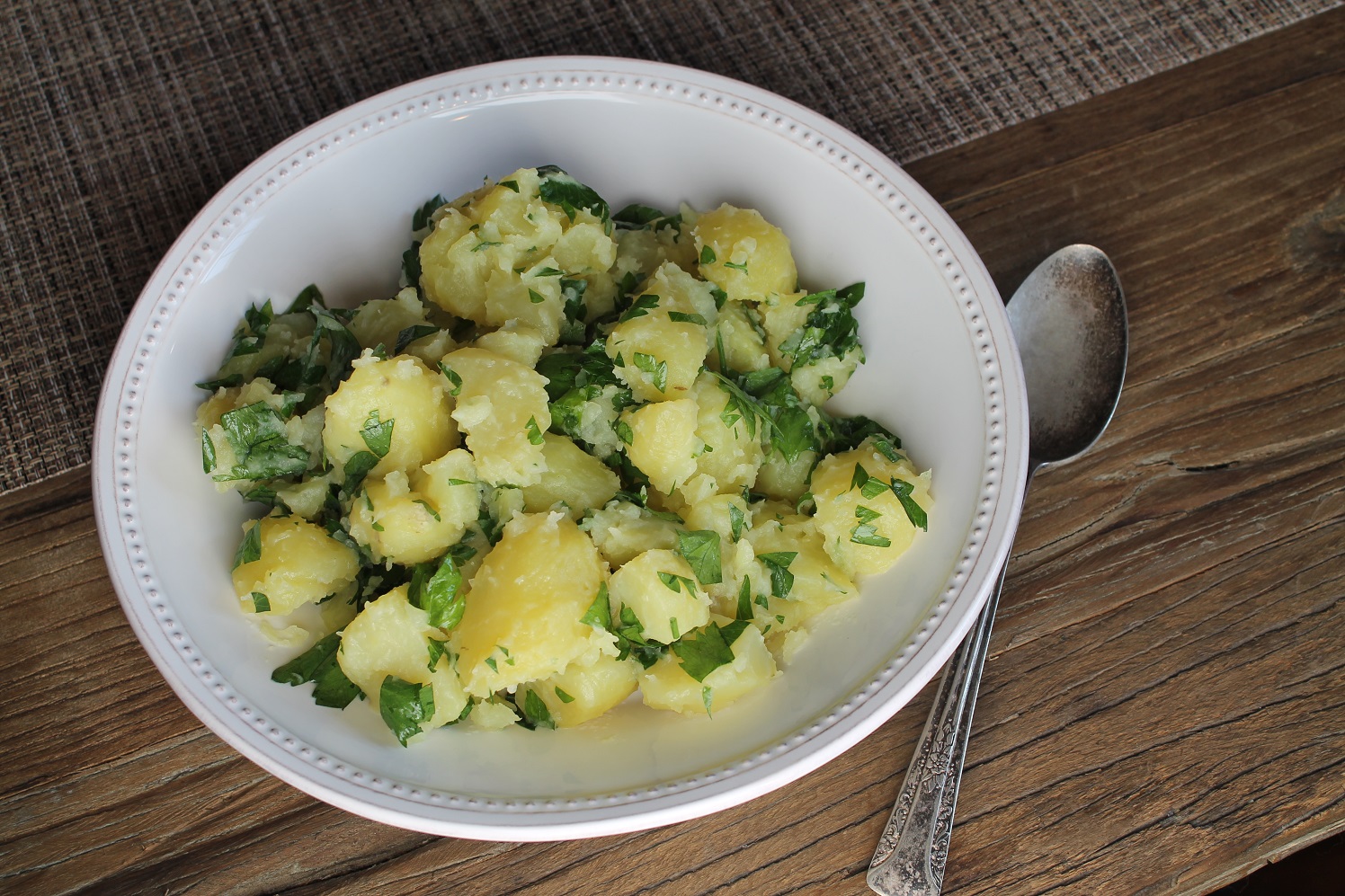 Try this super easy recipe for your next BBQ or buffet.
And leftovers? Try frying them up for a tasty twist on hash browns!
Until next time, Eat well & Keep Digging.