I'm a little envious of families that have rich food traditions linked to their culture. It seems my Italian, Polish, German, Mexican, and Indians friends grew up with fantastic foods with exotic names – insalata, pirogi, wurst, carnitas, and curries. Those are natural to them as roast beef and a side of broccoli are to me.
Not that Mom was a bad cook, not by any stretch. Anyone who can get dinner on the table for twelve on a nightly basis is doing something right. But let's face it, the culinary comfort zone of middle America in the and 1970's and early 1980's wasn't very exciting. Oh, we would watch Yan Can Cook and The Frugal Gourmet on PBS, but our dinners were sturdy if not exciting.
Home from college on summer break, I'd make pizza occasionally, so when I decided to make a calzone it wasn't a big stretch, but it was new. I remember pulling it out of the oven, golden brown and steam piping out of the vent I'd cut in the top. I'd filled it with zucchini, cheese, sausage and a little tomato sauce. Cutting it open and watching the cheese ooze out, I was triumphant!
Mom loved that dinner.
Fast forward 30 years. Mom is gone, and the general population is much more knowledgable about a wide variety of foods. Ingredients that were rare then are common place today, and chefs have been elevated from behind-the-scene blue collar workers to rock stars celebrities.
Yet that humble calzone (exotic though it was to us at the time) remains part of perhaps the oldest food tradition known to man.
The Hand Pie.
Hand pie, turnover, tart, empanada, sambouosek, pasty, calzone, samosa, call it what you will. I call it delicious! Baked or fried, these stuffed morsels are the original hand food, far predating that other hand held staple – the sandwich.
Making these is a lot like many of the dishes I prepare, a bit time consuming, but not difficult and very rewarding!
As I researched these a couple themes were repeated:
Before assembly filling should be at least cooled to room temperature.
Fillings should be moist but not wet.
Far better to slightly under fill than overfill the pastry.
After assembly, hand pies should be chilled for at 20 minutes.
If you're not into making your own pastry dough – use puff pastry dough or even premade pie crust dough – just be sure to follow directions on the package regarding thawing.
Make a bunch because you can freeze them and cook them up to 3 months later for a quick dinner.
Almost anything can go inside a hand pie – left overs, meat, fruit. Use your imagination!
For this post I'm making using short dough (if you use all vegetable shortening this is vegan) and a butternut from 2012's garden.
Butternut Squash Curry Filling
For a quick shortcut put onion garlic and ginger in food processor and whiz until finely chopped but not liquified.
Makes 6 pies
Ingredients: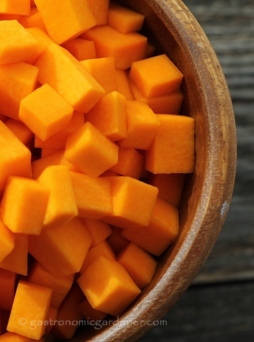 1 batch pastry dough divided into 6 equal portions
4 cups peeled and diced (1/2″ or 1cm) butternut squash – about 425g
1 tablespoon (15 ml) oil
1 teaspoon (5 ml) black mustard seed
1 teaspoon (5 ml) fennel seeds
1 medium onion grated – about 3/4 cup (175  ml)
3 cloves garlic minced
1 tablespoon (15 ml) grated fresh ginger
1 tablespoon  (15 ml)  curry powder
1 tablespoon  (15 ml) sambal oeleck (optional)
1-2 cups (250-500 ml) vegetable broth or water
1/2 cup frozen peas (optional – but add nice color contrast)
1 egg slightly beaten to use when sealing pies
Method:
Heat oil in sauce pan over medium heat until hot, add mustard and fennel seeds
Cook while stirring until seed are fragrant – 1-2 minutes, don't burn them
Add onions, garlic ginger, and cook until lightly brown – be careful the onion juice may steam vigorously
Add butternut squash and sambal oeleck, stir until coated with spiced onion mixture
Add curry powder and stir to coat squash
Add 1 cup (250 ml) of broth or water and stir, scraping up any bits that may have stuck to the bottom of the pan
Add more broth or water to just barely cover
Increase heat and bring to a boil
Reduce heat to low and simmer uncovered until squash is soft and liquid is almost gone. Add more broth or water if needed.
Take pan off heat, and using a masher or a fork mash mixture together until it is the consistancy of lumpy mashed potatoes. If still too wet, return pan to medium low heat and cook stirring often until correct consistancy
Remove from heat, fold in peas and allow to cool completely
Once cool, the curried squash may be refrigerated for up to 3 days before making pies.
Assemble and Bake
It will be easier to work with 2 -3 dough balls at a time. Leave them in fridge until ready to use.
Rollout dough balls to 5″-6″ (12.5-15cm)
Spoon a scant 1/2 cup of filling into center of dough, fold over and crimp
Cut a small slit in top of pie to vent steam
Place formed pie on well greased or parchment paper lined baking sheet
When all pies are formed, place loaded baking sheet into freezer or fridge for at least 20 minutes to chill

You could freeze them at this point for later use, just add 10-15 minutes to baking time if cooking from frozen

While pies chill, preheat oven to 375F (190C / Gas Mark 5)
Brush pies with egg wash
Put tray of pies in oven and bake until golden brown – about 40-50 minutes
Let pies cool for 10 minutes before devouring. These were awesome. Flakey crust, tender filling perfumed by the curry powder, followed by a sly burn that winks at you but doesn't take your breath away.
I'm pretty sure Mom would've like these, and who knows, maybe I'm starting my own family food tradition.
Until next time, Eat Well & Keep Digging!