It's cold and rainy today, a good day for a hearty hot dinner.  Beans are a staple in the pantry and I like white beans that can be cooked long to the point of being creamy. Spanish chorizo is also one of my favorites, its color and flavor unmatched. Let's combine the two, creamy base note beans, and sharp sausage for a satisfying dinner.
I cook the beans almost like risotto, slowly adding stock as needed to keep the beans loose but not soupy.
The vegetable mixture is completely flexible, use what you want. here is what I did,
Creamy White Beans and Chorizo
Soaked white beans (I'm using great northern beans)
4 cups Chicken stock
1 tsb olive oil plus extra for drizzling
1/2 tsp salt
1 carrot finely diced
2 clove garlic minced
1/4 cup onion minced
1/2 tsp dried herbs I used (herbs de provence)
3 oz spanish chorizo diced
Salt & pepper to taste
Add olive oil to sauce pot over medium high heat
Add diced carrots and salt, stir and cook about 3 minutes, reduce heat to medium

Add onions, stir and cook another 5 minutes

Add garlic, stir and cook 1 minute
Add the soaked and drained beans and stir

Add enough stock to just cover, bring to boil then reduce heat to medium low

Put a lid on it, but leave it cracked, simmer for about 30 minutes stirring occasionally
Add the dried herbs
Add stock as needed to just keep the beans covered. When beans are tender – mash about a third of them and stir back into the rest of the beans

Meanwhile….

Add diced chorizo to a small sauce pan over medium high heat until a slight crust starts to form. Drain excess fat
Spoon beans into bowl, top with about 1/2 the sausage, drizzle with olive oil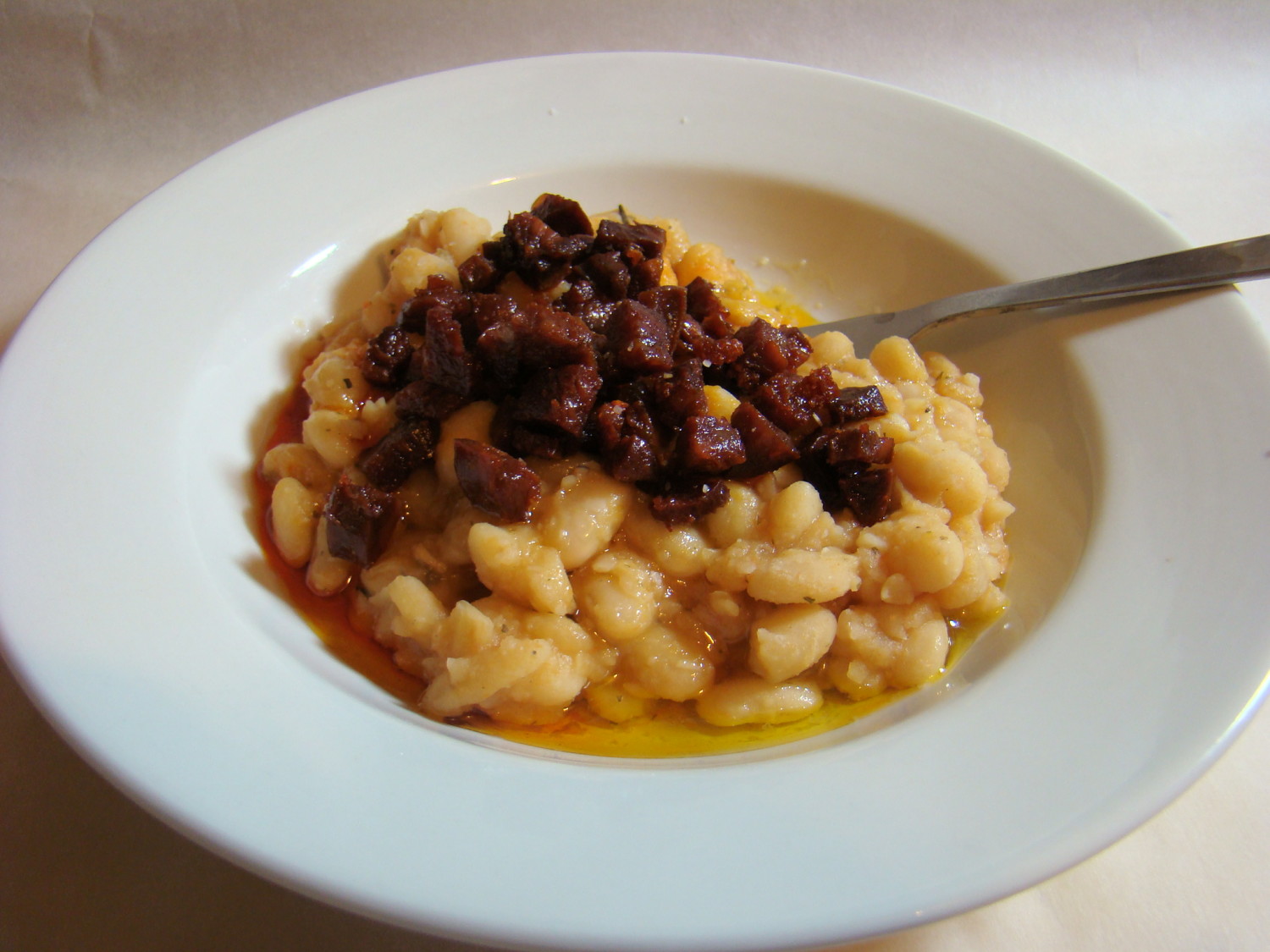 Creamy beans, crunchy salty spicy sausage. Floral olive oil…. Life is good!
Until next time, Eat Well & Keep Digging!