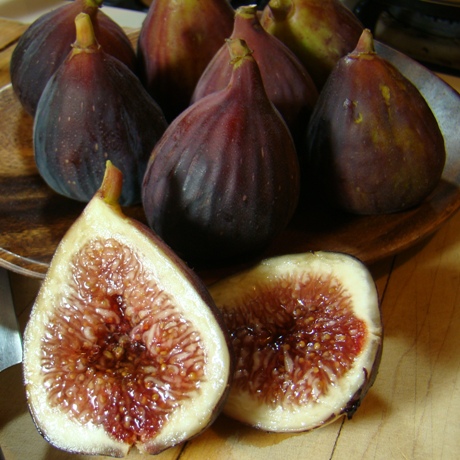 I've been busy putting up canned produce for the winter and I've already exceeded the amount put up last year with quite a bit more to go. And while I get excited about putting up things I grew, I have no problem with putting up things I didn't grow, especially if I really enjoy them. I do look for organic vegetables and fruits as I don't want to be preserving insecticides and such.
Yesterday I was at the market looking for cherry peppers. I really want to have several quarts pickled before the snow flies and I found some, but they were not in good enough shape for me to purchase. I spoke with a couple produce managers and they seem to think it'll be a few weeks yet before the supply is flush.
What I did find were flats of fresh figs. Their season seems quite short and supplies limited so I bought up two flats. Fresh figs are a favorite – tasting like a cross between a melon and a strawberry – they are also pretty to look at. While it is possible to grow them in this part of the country, it takes a green house to overwinter them.  This old timer is growing them and doing a splendid job.
I mentioned in a previous post I'm working my way through The Preservation Kitchen, (By the way I get nothing for mentioning that, I just love the book) and it contains a recipe for brandied figs. There are also a slew of recipes on the internet. The idea of sweet figs, drenched in brandy –  waiting to be popped out in the dark of  winter is an appealing one indeed! From topping ice cream or a simple cake and cream, as an accompaniment to a cheese plate, to reducing the liquid and making a savory side to rich meats, I can't wait to try it!
It doesn't take long to go from fresh to jarred – less than an hour. And the benefits will last into the dark cold dreary…. who am I kidding? I'll probably have some this weekend!
From The Preservation Kitchen:
Ingredients:
8 cups figs – washed, stems removed, halved or quartered
1 2/3 cups brandy
1 1/3 cups + 2 tablespoons sugar
3/4 cup + 1 tablespoon water
Directions:
Prepare jars according to manufacturer's directions
Prepare waterbath pot
In a large pot combine brandy, sugar and water to a boil, reduce heat and simmer until sugar disolves
Divide figs between jars
Add brandy solution to jars, to 1/2″ headspace
Wipe rims, put on lids, add bands and tighten until snug
Process in hotwater bath 15 minutes starting the timer when the water returns to a boil
Turn off heat and let jars rest in pot a few minutes
Remove from water bath and allow to cool completely before storing. 
Are you canning any fruit this year?
By the way, if you have a keen eye, you'll probably notice the liquid level in the jars is a little low. I attribute this to: 1) I didn't get all the air out of the jar- the cup shape of the figs didn't help even though I did use the bubble remover. and 2) I may have removed them from the water bath too soon. In any event they sealed perfectly so while they may be a little low they should be just fine to eat.
Until next time, Eat well & Keep Digging!

Related posts: