I love beets, whether in a salad or simply roasted or in the classic combination of beets with orange and red onion.
Today I'm riffing on the flavors of the last salad, but taking it (hopefully) a little more upscale.
The cashew cream is something new to me, but after making this, is something I'll be playing with. A neutral non-dairy cream has all sorts of possibilities.
Make the cream first and allow it to chill for a few hours or even a day.
Beet Carpaccio with Orange Cashew Cream and Mandarin
[tw-divider]INGREDIENTS[/tw-divider]
For the cashew cream:
1 cup raw cashews
1/2 cup water (+/-)
1/2 teaspoon salt
1/2 teaspoon orange extract
2-3 medium beets- cooked and sliced as thinly as possible (I used a mandolin)
1/2 cup mandarin orange segments, rinsed and patted dry on paper towel
1/4 cup pistachios crushed
Extra virgin olive oil
[tw-divider]METHOD[/tw-divider]
For the cashew cream:
Place cashews into a bowl and add enough filtered water to cover, set aside for 2 hours (or over night)
After 2 hours, drain and rinse cashews
Place drained and rinsed cashews into a blender along with the 1/2 cup water, salt and orange extract
Blend until creamy
* Note if you don't have a blender – a food processor will work, but be sure to stop a few times and scrape down the sides to ensure the cream is creamy!
Scrape the cream into a small container, cover and put in the fridge
[tw-divider]PLATING[/tw-divider]
You can have some fun here, it could be plated similiar to beef carpaccio, thin slices overlapping on a plate, then topped with drizzle of your best extra virgin olive oil, followed by a drizzle of the cashew cream, the mandarin segments and a scattering of the crushed pistachios.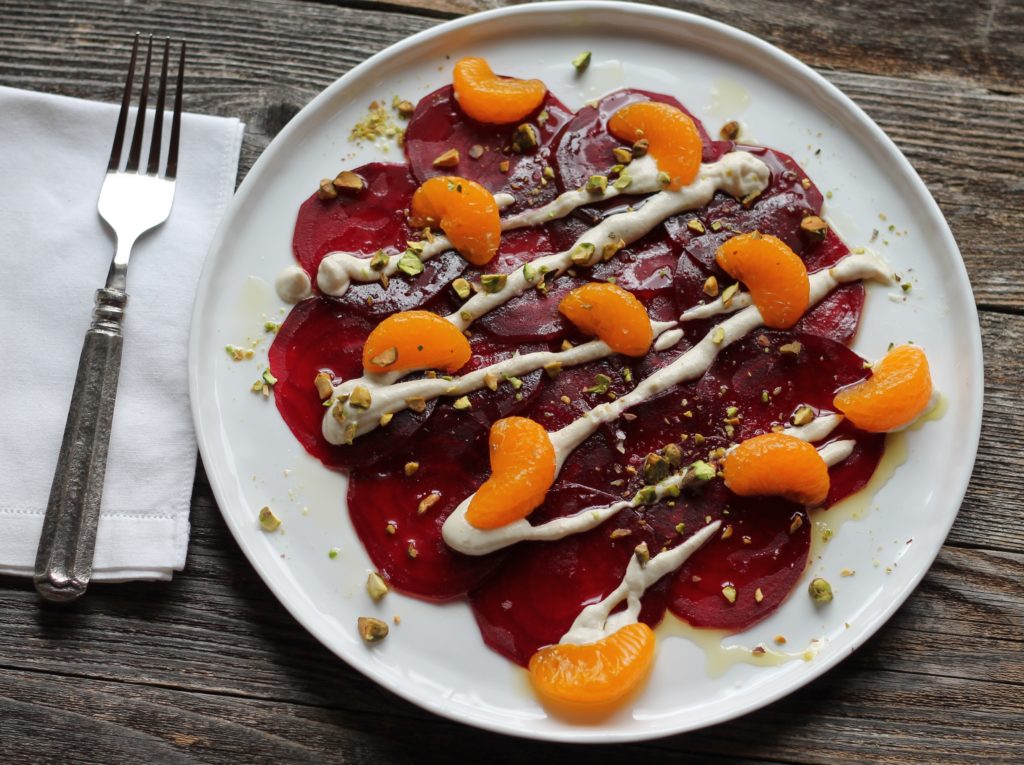 or for elegant canape – slices of the beets, a dollop of cream and a madarin segment.

What about a swoosh of cream, and all the fix'ns

In any event, as my good pal says – you can't beat beets!
Until next time Eat Well & Keep Digging!