It is very helpful to have on hand a basic curry sauce. With it you can put together a very quick dinner, often in the time it takes to cook the rice. This recipe, adapted from http://www.curryhouse.co.uk/ is easy to make and delicious. It will make between 8 and 9 oz of curry. It will freeze for up to 3 weeks. If you freeze it, be sure to wrap it  well in order to reduce odor or taste transfer to other frozen foods.
I'm making this today to get a head start on Meatless Monday.
Basic Curry Sauce
3 tbs vegetable oil  (use or ghee (clarified butter) if you have it)
1 medium onion shredded
4 cloves of garlic peeled and finely sliced
1 1/2" piece of root ginger peeled and finely sliced – it should be about the same volume as the garlic
2 medium heat green chilies, seeds and veins removed the finely chopped (optional)
½ tsp turmeric
½ tsp ground cumin
½ tsp ground coriander seed
1 tbs tomato paste
½ cup + 4-5 tbs water
Heat oil in a heavy pan over high heat
Add onions and cook, stirring for 2-3 minutes

Add ginger, garlic, and chilies, stir constantly for 30 seconds

Turn heat down to low
Cook for 15 minutes stirring, be sure not to brown or burn the mixture
Add turmeric, cumin, and coriander

Cook very gently for 5 minutes. Take extra care not to burn the spices  – sprinkle with a few drops of water if need be. (If you do burn them, start over!)
Take pan off heat and cool slightly
Put water in food processor; add contents of sauce pan
Process until very smooth  – about a minute
Add tomato paste – process again

Return mixture to sauce pan
Cook over very low heat for 20-30 minutes stirring occasionally
The color will darken to a rich orange/brown as you gently fry the sauce, if need be add a little hot water to keep it from catching on the pan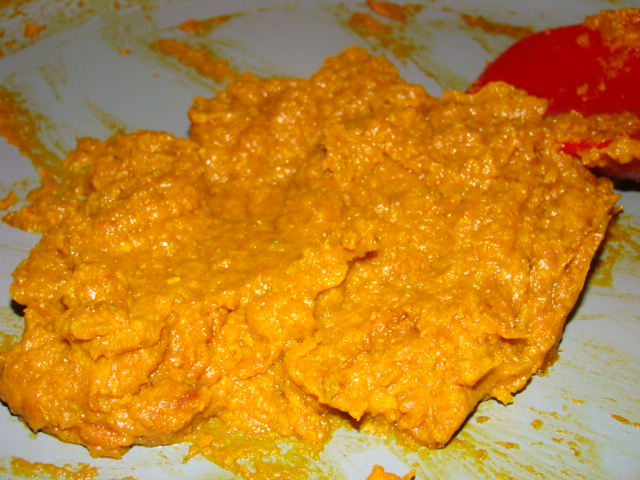 Use immediately or cool and refrigerate or freeze for future use.
This is a versatile sauce, and while it does take some time, it is worth it!
Until next time, Eat Well & Keep Digging!