Here near Chicago, spring is often the merest seasonal sliver between frozen tundra and sweltering tropics.   This year we've gotten a late start, and people are yearning for warm weather. Before it get too hot, I'm thinking some spring vegetables with a light refreshing flavor is in order.
Initially I thought of a  lasagna, but felt it would hide the beautiful asparagus, so I changed it up, and went with a roll up, same ingredients, same flavor, prettier plating.   I made this in a dry run a few weeks ago and was very happy with the flavor combination. Then, serendipitously, my wife's uncle came up from downstate with a small batch of home grown asparagus and some just foraged morel mushrooms. He "knew I liked to cook"  so he gave me some. Very thoughtful, and my sincere thanks to "Uncle Ken."
Please don't be put off by the many steps, this is a simple recipe that takes less than an hour to pull together. The components can be made a day ahead and assembled and baked when you are ready.
If I were to adapt this recipe, I might swap out the asparagus for fiddle head ferns. If you don't have access to Morels any good mushroom will do.
Asparagus & Lemon Ricotta Rollups with Morel Cream Sauce
Makes 4 rollups
Serve one as an appetizer or two as a light entrée
[tw-divider]INGREDIENTS[/tw-divider]
For the roll-ups:
6 sheets of lasagna pasta – store bought or homemade – there are two extra in case they tear
12-16 Asparagus spears, woody end trimmed and peeled
1 cup – (250 mL) Ricotta – homemade or store bought
1 lemon
Parmesan cheese
Salt and pepper
For the Cream Sauce:
1 Tablespoon (15 ml) butter
8 morel mushrooms – cleaned and halved or quartered if they are large
1/2 cup (125 ml) heavy cream
1 Tablespoon (15 ml) cornstarch
Salt
Ground White pepper
[tw-divider]METHOD[/tw-divider]
Cook pasta,
Cook pasta according to directions until just tender – if you're making fresh pasta I assume you know how to cook it,
Remove from cooking water and place into cool water, you can also put them on a tray or a plate and spread them with a little olive oil to keep them from sticking together.
Cook asparagus
Turn oven to broil
Toss asparagus with a little olive oil season with a pinch each of salt and pepper
Put asparagus on small pan, place pan under the broiler
Cook, keeping a constant watch and turning spears frequently until

slightly

charred
Remove from broiler and set aside
Prepare cheese filling
Put ricotta in a bowl,  zest the lemon directly into the bowl stir to combine
Cut lemon in half, and juice half into the cheese mixture, stir to combine – for a fluffier consistency whisk or use a hand blender
Taste – add more lemon, salt and pepper as required
Assemble Rollups
Preheat oven to 400F, 220C or Gasmark 7
Lightly oil a sheet pan
Gently remove a pasta sheet from the cool water. Blot dry
Place pasta sheet on work surface and trim to about 2 inches wide by 5 inches long
Place 3-4 asparagus spears perpendicular (cross-wise) to the pasta sheet with the bud extending – don't put them in the middle
Add lemon ricotta filling – about 2 tablespoons (30 mL) on top of the spears
Gently roll up pasta, cheese & asparagus bundle
Place onto prepared pan
Repeat 3 more times
Cover loosely with aluminum foil and place into hot oven
Cook until hot – about 15 – 20 minutes – While rollups cook, make the cream sauce
Remove from oven, remove foil from the rollup but keep the delicate tops of the asparagus covered
Set oven to broil
Grate parmesan lightly over the top of the pasta
Return pan to oven and broil until top is just lightly browned
Make the Morel Cream Sauce
In small sauté pan over medium heat melt the butter
Add the morels and cook until lightly browned
Add cornstarch and stir until mushrooms are coated
Add the cream and stir gently – don't break up the mushrooms
Season with salt an pepper
Bring to simmer, when cream mixture thickens, reduce heat and keep warm, stir as needed if it starts to develop a "skin"
[tw-divider]PLATING[/tw-divider]
Spoon a small amount cream sauce only (no mushrooms) onto a plate. Top with rollup – add mushrooms on sides.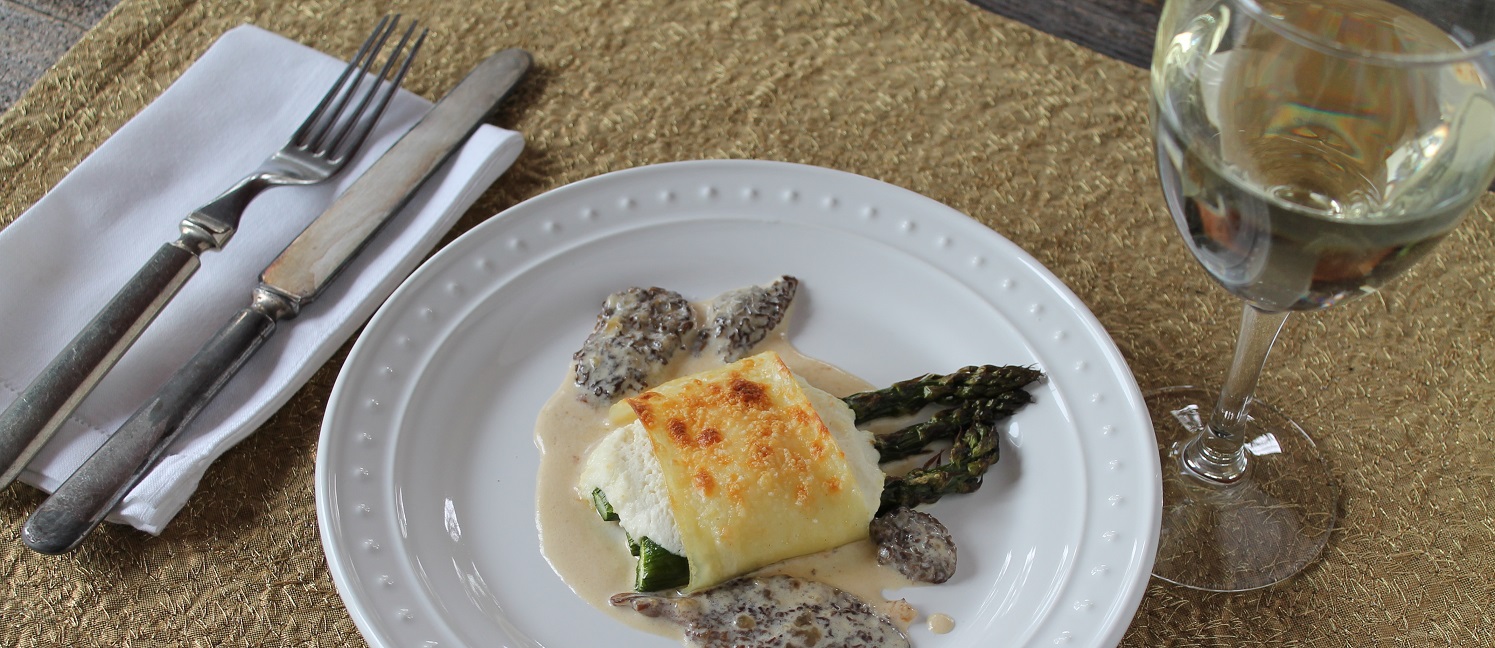 I'd pair this with a Sauvignon Blanc or perhaps a dry Riesling.
Simply delicious!
Until next time, Eat Well & Keep Digging!